Empower Network Moving Back To WordPress
October 11, 2014
By Tina Williams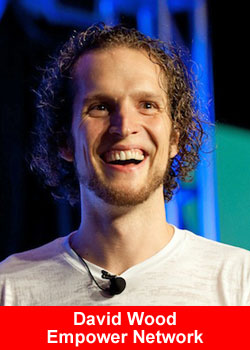 David Wood, founder of Empower Network, is pleased to announce that his company is embracing a new shift in strategy that should really benefit the people who work with him. As Dave Wood explained, Empower Network is moving from its own self-made blogging platform back to WordPress. This move will allow David to offer users a huge variety of new themes and plug-ins.
In addition, the David Wood Empower Network blog is moving over to the new platform as well. Thanks to its new design, more people than ever will be able to read and enjoy the David Wood blog posts and videos.
As a self-described visionary and leader, David loves nothing more than helping other people succeed. The successful marketer and inspirational speaker said he truly loves meeting and working with people, and helping inspire them to build their own businesses.
This love for people is highly evident in David Wood's latest blog entry, titled "The Most Magical Place in the World." In the moving video, David introduces his adorable infant son Gabriel to an appreciative audience who were attending an Empower Network seminar. In a special moment, David encourages the audience to also send a group greeting to his other son Angel, who was unable to attend that day. The love and appreciation that Wood feels for his wife, sons, and audience members was evident in the emotional video.
As David explains, he is dedicated to living up to the meaning behind his company's name.
"The word 'empower' means to give ability to; enable or permit," David said, adding that this is a key element to Empower Network's mission, which is dedicated to empowering as many people as possible through the network, training, products, support, opportunities and the honest and authentic message of hope and freedom that Empower Network offers.

"I founded my company on the idea that individuals can build businesses and have personal lives at the same time. I believe that individuals can use the struggles, hardships and experiences they've had in life and turn them into their most empowering assets."
About Empower Network:
Since Empower Network's founding in 2011, the company has enabled more than 150,000 people to launch their dreams. People who have struggled for years in business are having success with the help of the opportunities Empower Network provides. Customers searching for simple and honest marketing systems and training programs are having breakthroughs and getting results with Empower Network's products.
Most importantly, Empower Network's members are finding purpose in business and life through attending our events and interacting with the Empower Network community and leadership.