Talk Fusion Associates Find Success Through Serving Others
October 22, 2014
By Nicole Dunkley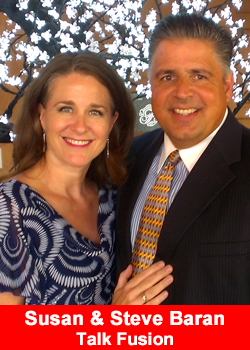 As new Diamond Associates, Steve and Susan Baran will be heading to Hawaii in December for Talk Fusion's Dream Getaway vacation. It will be a rare chance to enjoy some time to themselves.
In addition to their Talk Fusion business, the Barans run an outreach ministry in Sebastian, Florida, so a majority of their focus is on others less fortunate. Talk Fusion is giving them the financial freedom to truly serve their community.
With over 30 years combined industry experience, the Barans are not newcomers to the Direct Selling industry. "Steve became a 7 figure earner by the age of 33," Susan recalls. But with a devotion to helping others and a need for the personal income to make that happen, the Barans continued to search for the perfect company.
"We found Talk Fusion through researching video communication companies online," says Steve. "We came to the conclusion Talk Fusion had the best product out there, the best pricing, and a suite of products all in one place."
Talk Fusion's Instant Pay Compensation Plan and a corporate culture with a strong affinity for giving back made it an ideal match. "With a company built on a solid foundation, which helps so many achieve so much, we can reach a worldwide audience within the industry that we love," Susan says. "Our dreams are bigger than ever before."
Reaching the rank of Diamond is just the next step for Steve and Susan Baran, as they focus on growing larger, stronger teams of Associates. "We will continue to build a solid, long-term business by serving and helping people achieve their dreams. The more people we help, the more we will climb the ranks," states Susan.
Steve clarifies, "It's not just our team; it's the Talk Fusion Team. We love seeing everyone participate building success. We are excited to raise up new leadership within the team and help them achieve great accomplishments."
Even while enjoying Talk Fusion's motivational Dream Getaway in Maui, the Barans will be driving their business through networking with successful Associates from around the world. By passing on that advice and knowledge to their own teams, they will be helping create more Diamond Associates to attend the next Dream Getaway.
Their outreach ministry will benefit as well. Steve and Susan will return from Hawaii invigorated and inspired to create the financial freedom that allows them to pursue their passion: fostering community goodwill, raising awareness, and fundraising.
"Talk Fusion has afforded us the opportunity to serve our community without conditions," they say happily. "We can truly give from our hearts."
ABOUT TALK FUSION
A global leader in video communication products, Talk Fusion connects people around the world through cutting-edge video technology and the means to share it, empowering them to live their dreams. Talk Fusion's innovative video products are marketed person-to-person by independent Associates in more than 140 countries.
Founded in 2007 by CEO Bob Reina, Talk Fusion introduced the world's first Instant Pay Compensation Plan. Talk Fusion adheres to the highest ethical business practices and is a member of the prestigious Direct Selling Association (DSA). Reina firmly believes that "with great success comes greater responsibility."
Talk Fusion fosters a strong commitment to giving back to friends, family, communities, and animal charities across the world to produce a positive global change. Learn more at www.TalkFusion.com and "Like" Talk Fusion at www.facebook.com/TalkFusion.
Income Disclaimer:
Any earnings portrayed in any Talk Fusion marketing materials are not necessarily representative of the income, if any, that a Talk Fusion Associate can or will earn through his or her participation in the Talk Fusion Instant Pay Compensation Plan. All references to income, implied or stated, throughout the Talk Fusion Instant Pay Compensation Plan are for illustrative purposes only. These figures should not be considered as guarantees or projections of your actual earnings or profits. Talk Fusion does NOT guarantee any level of income or earnings to any Associate; any representation or guarantee of earnings would be misleading. The purchase of a Talk Fusion Product Package is completely optional and is not required for an Associate to participate in the Talk Fusion Instant Pay Compensation Plan.