Top 250+ Life Time Earners In MLM
October 22, 2014
By Team Business For Home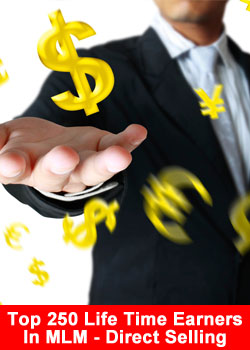 The Top 250+ Life Time Earners in MLM or Network Marketing.
What can you make in Direct Selling in total over the years?
Business For Home is publishing THE ESTIMATED LIFE TIME EARNINGS for the Top Earners in Multi Level Marketing, Net Work Marketing and Direct Selling.
Impressive numbers! This shows the world Direct Selling is a very interesting business opportunity. Stable and lifestyle changing!
The longer a Top Earner stays with a company, the higher the earnings…. The residual guys and girls, True financial freedom, enough time and money to play golf…
The numbers are Totals so if a Top Earner made $2 million in Company A and move to Company B and made there $3 milllion he/she is ranked for $5 million.
Below list is UNDER CONSTRUCTION and incomplete and always will be incomplete, as the dynamics in the industry are gigantic:)
Any corrections? Did we miss you?
Please send a private Face Book message to Ted Nuyten
Below list total at nearly $3.1 Billion…
| Rank | Rank | Name | Present Company | Est. Life Earnings | Website |
| --- | --- | --- | --- | --- | --- |
| 1 | 1 | Dexter and Birdie Yager | Amway | $295,000,000 | www.dexandbirdieyager.com |
| 2 | 2 | Jim and Nancy Dornan | Amway | $125,000,000 | www.n21corp.com |
| 3 | 3 | Bill Britt | Amway | $115,000,000 | www.bww.com |
| 4 | 4 | Max Schwarz | Amway | $90,000,000 | www.schwarz-organisation.eu |
| 5 | 5 | Jeff Roberti | Juiceplus | $80,000,000 | www.roberti.net |
| 6 | 6 | Tim Foley | Amway | $78,000,000 | www.amway.com |
| 7 | 7 | Barry Chi and Holly Chen | Amway | $70,000,000 | www.amway.com |
| 8 | 8 | Nathan Ricks | Nu Skin | $58,000,000 | www.nuskin.com |
| 9 | 9 | Foo Howe Kean and Jenny Ko | Amway | $40,000,000 | www.amway.com |
| 10 | 10 | Peter and Eva Muller-Meerkatz | Amway | $40,000,000 | www.peterundevamm.com |
| 11 | 11 | Rolf Kipp | FLP | $40,000,000 | www.flp-europe.com |
| 12 | 12 | George Zalucki and Art Napolitano | ACN | $35,000,000 | www.georgezalucki.com |
| 13 | 13 | Holton Buggs | Organo Gold | $35,000,000 | www.organogold.com |
| 14 | 14 | Joelle Bonnefoy and Andre Poli | FLP | $35,000,000 | www.foreverliving.com |
| 15 | 15 | Tom and Bethany Alkazin | Vemma | $34,000,000 | www.vemma.com |
| 16 | 16 | John Curtis and Jayne Leach | FLP | $30,000,000 | www.foreverliving.com |
| 17 | 17 | Maria Schleipfer | Amway | $30,000,000 | www.amway.com |
| 18 | 18 | Shane Morand | Organo Gold | $30,000,000 | www.organogold.com |
| 19 | 19 | Michiko and Bruno Graf | Nu Skin | $29,000,000 | www.nuskin.com |
| 20 | 20 | Betty Sung | Nu Skin | $28,000,000 | www.nuskin.com |
| 21 | 21 | Carol and Ken Porter | Monavie | $27,000,000 | www.Monavie.com |
| 22 | 22 | Ed Bestoso | Melaleuca | $27,000,000 | www.bestoso.com |
| 23 | 23 | Mitch and Deidre Sala | Amway | $27,000,000 | www.diamondfocus.com.au |
| 24 | 24 | Suisie Sznicer | Nu Skin | $27,000,000 | www.nuskin.com |
| 25 | 25 | Todd Smith | Unicity | $27,000,000 | www.makelifebetter.com |
| 26 | 26 | Tomoki and Toyoku Kunieda | Nu Skin | $27,000,000 | www.nuskin.com |
| 27 | 27 | Steve and Melyn Campbell | Limitless Worldwide | $26,100,000 | www.limitlessworldwide.com |
| 28 | 28 | Brad and Marcia Hager | FG Xpress | $26,000,000 | www.bradhagermlm.com |
| 29 | 29 | Craig Bryson | Nu Skin | $26,000,000 | www.nuskin.com |
| 30 | 30 | Robert Hollis | GanoLife | $26,000,000 | www.unlimitedprofits.com |
| 31 | 31 | Bo Short | Mannatech | $25,000,000 | www.shaklee.com |
| 32 | 32 | Giselle Sexsmith | Nu Skin | $25,000,000 | www.nuskin.com |
| 33 | 33 | Susan Peterson | Herbalife | $25,000,000 | www.herbalife.com |
| 34 | 34 | Craig Tillotson | Nu Skin | $23,000,000 | www.nuskin.com |
| 35 | 35 | Mark Lei and Peggy Yeh | Amway | $23,000,000 | www.amway.com |
| 36 | 36 | Blake and Carol Tillotson | Nu Skin | $22,000,000 | www.nuskin.com |
| 37 | 37 | Ching Ping Wang | Nu Skin | $22,000,000 | www.nuskin.com |
| 38 | 38 | Dave and Connie Johnson | Nu Skin | $22,000,000 | www.nuskin.com |
| 39 | 39 | Lang Chou | Nu Skin | $22,000,000 | www.nuskin.com |
| 40 | 40 | Russ and Linda Karlen | Nu Skin | $22,000,000 | www.nuskin.com |
| 41 | 41 | Carol and Alan Lorrenz | Herbalife | $21,000,000 | www.herbalife.com |
| 42 | 42 | Clara McDermott | Nu Skin | $21,000,000 | www.nuskin.com |
| 43 | 43 | John Kim | Nu Skin | $21,000,000 | www.nuskin.com |
| 44 | 44 | Kang Hyeon Sook and Ryu InIk | Amway | $21,000,000 | www.amway.com |
| 45 | 45 | Leonard and Esther Kim | Amway | $21,000,000 | www.wwdbkorea.com |
| 46 | 46 | Carole Taylor and Peter Oelmann | Isagenix | $20,000,000 | www.isagenix.com |
| 47 | 47 | Chavich Kim | Unicity | $20,000,000 | www.makelifebetter.com |
| 48 | 48 | Elizabeth Weber | MarketAmerica | $20,000,000 | www.marketamerica.com |
| 49 | 49 | Kaoru and Peter Banister | Nu Skin | $20,000,000 | www.nuskin.com |
| 50 | 50 | Kaoru Nakajima | Amway | $20,000,000 | www.heckel.ne.jp |
Showing 1 to 50 of 250 entries