Top Actress Huma Qureshi To Endorse Oriflame India's Colour Cosmetics
October 16, 2014
By Team Business For Home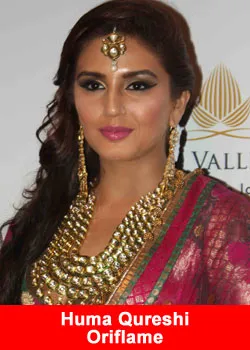 Actress Huma Qureshi has been signed as the ambassador of colour cosmetics section of direct selling brand Oriflame India.
The 'Gangs of Wasseypur' star, dressed in a black gown with curled hair and red lips, sashayed down the ramp as she was announced as the face of the colour cosmetics section of the brand here Wednesday.
She also launched the brand's new range called 'The One', which comprises Oriflame The One Everyday Beauty, Oriflame The One Long Wear and Oriflame The One High Impact.
It's beauty with responsibility. The company works with women and empowers them so that appealed to me, Huma said about the Sweden-based company here.
Asked what beauty product she is addicted to, she said: Mascara. I can't leave home without it. It makes my lashes look better.
Niklas Frisk, vice president and head of South Asia and managing director, Oriflame India said that the actress personifies the strength and values of a contemporary Indian woman.
About Oriflame:
Oriflame is a leading beauty company selling direct. We are present in more than 60 countries, of which we are the market leader in more than half. Oriflame has its origin in Sweden with corporate offices in Switzerland. We offer a wide range of high-quality beauty products as well as a unique opportunity to join our sales force and start your own business.