"Work From Home Family" Shares Their Dream At Vísi
October 27, 2014
By Nicole Dunkley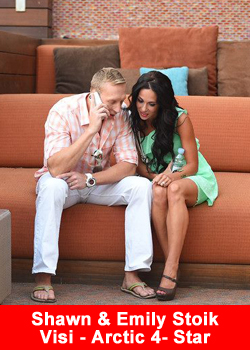 Shawn and Emily Stoik have a mission: help build families through togetherness and time freedom. They also have a new partner: Vísi. The couple joined the marketer of whole-body vitality products earlier this month and achieved the prestigious rank of Arctic 4-Star in their first week.
Shawn and Emily are proven business leaders: for the past several years, they have led a team spanning several countries with many benefitting from life-enhancing incomes to free products. Although the Stoiks have consistently earned a six-figure income themselves, their primary motivation is helping other families. Shawn's guiding principle is that people don't care how much you know until they know how much you care. "We strongly believe in helping that next person," he says.
"We chose Vísi for the people," Emily says. "We have a dear friend who's been a part of Vísi for a year and we've watched his business grow. He's a person of integrity and hard work and said the company matched those values. We knew we had to take a closer look." After meeting the company's executive team and learning more about the products, Emily says, "Vísi felt like home."
Home is a central theme for the Stoiks, who met online, married in 2002, and have three young children. "Being a 'work from home' family has always been important to us," says Emily. "It means both Shawn and I are present for big milestones—first words, first steps, first day of school, and that we have the freedom to do a road trip to visit grandma or fly to the beaches of Mexico, Hawaii, or even the Caribbean without being bound by a traditional job."
Years ago, the couple started an online marketing business that provided for their financial freedom and time flexibility. Network marketing allowed them to share that dream—"before, it was just about us. But with Vísi, we can help other families have this lifestyle, too," says Emily.
The products were a perfect complement to the couple's commitment to health and nutrition. Emily maintains a popular Facebook page called "Energetic, Fit and Healthy" with thousands of followers where she shares her passion for wellness. "I love Nufínna! I have so many recipes I'm excited to share because it's such a versatile, fun to use protein source—brownie batter shakes, pumpkin pie, apple pie…I use it as an after-workout shake." She notes that their three children love the Probíta protein chew as well. "I just split it in thirds and they love it. It tastes so good."
Shawn says his family is excited for the future and what Vísi will help them accomplish. "If I were to share one thing about network marketing it is timing, timing, timing. It's crucial if you want to build a legacy that really helps people achieve their dreams. And Vísi is it."
About Vísi
Vísi is derived from a Scandinavian word meaning "leader" and is dedicated to helping people lead their best life. The global network marketing company innovates total-body vitality products, including the AC2 products category. AC2 technology brings products to market featuring Scandinavia's arctic cloudberry plus hydrolyzed collagen, a highly bio-available natural protein source. As a leadership-focused organization, Vísi is driving business rewards and improved health for thousands of Vísi Partners and customers around the world in 18 markets, including the United States, Canada, and Japan. To learn more, visit www.iamvisi.com.