LIMU Takes Off In Latino Markets
November 19, 2014
By Nicole Dunkley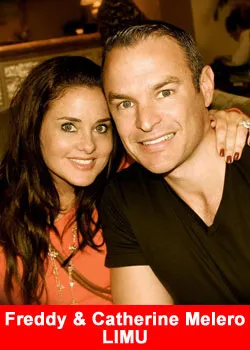 With the addition of top industry leaders including multi-million dollar earners and high-profile industry veterans Freddy & Catherine Melero, LIMU is poised to make a serious splash in the North American Latino Market.
Dubbed LIMU LATINO by the Meleros and their rapidly growing group of Latino leaders based in Puerto Rico, Florida, Texas and California, the LIMU LATINO initiative pre-launched on Tuesday, November 18th and continues in several markets throughout the coming weeks.
"Our team sees that LIMU is poised for really explosive growth, and the company already looks like a billion-dollar brand," said Melero. "LIMU is a great opportunity for the flourishing Latino market, an audience that now includes over 55 million people in North America and continues to grow at staggering rate. We are thrilled to be partnering with this unique and dynamic LIMU brand."
LIMU is capitalizing on building excitement in the market by providing industry-leading tools with an emphasis on digital platforms and mobile, coupled with unique, ultra-premium nutritional products that are perfect for the growing Latino market. Cutting-edge digital tools, mobile resources and cinema-quality videos assure the company's message is compelling and easy to share, whether in English or in Spanish.
Gary Raser, Founder, President and CEO of LIMU, states, LIMU is a trendsetter — from our category-creating products, to our powerful branding and marketing, and to our focus on sharing LIMU with entrepreneurs of all ages.
We are excited to kick-off and support the LIMU LATINO pre-launch events, and particularly enthused to be reaching one of the fastest-growing demographic groups with the LIMU Experience. Freddy and Catherine Melero are both passionate and hugely successful entrepreneurs, and we are elated that these inspiring LIMU Promoters are leading the LIMU LATINO effort."
Ryan Barson, LIMU's VP of Business Development, says, Our long-term global expansion goals are clearly dependent on a strong presence in the U.S. among key demographics and audiences. As LIMU LATINO gains momentum, it will naturally lead us to new international markets with common cultural, linguistic and historical ties. Our pre-launch events in the coming weeks are a great beginning to what will be significant business-building in the LIMU LATINO markets.
About LIMU
Founded in 2004, and profitable and debt-free from day one, LIMU is a leading direct sales company focused on providing entrepreneurs with exclusive and proprietary Fucoidan-rich products made in the USA, along with the unique opportunity to create their personal LIMU Experience and Be More. Award-winning branding and marketing support LIMU Promoters around the world, and state-of-the-art technology platforms make it easy for Promoters to share the LIMU Experience and build strong global businesses. With over 1,100 independent, third-party, unsolicited studies on its super-nutrient Fucoidan – available on pubmed.gov – the company is the acknowledged category-creator and worldwide leader for LIMU products.
LIMU and the LIMU logo are registered trademarks of The LIMU Company, LLC in the U.S. and other countries.
For more information, please visit: www.thelimucompany.com and www.yopros.com
Follow LIMU on Facebook, Twitter, YouTube and Instagram:
https://www.facebook.com/LIMUco
https://twitter.com/LIMUthecompany
https://youtube.com/LIMUcompany
https://www.instagram.com/theLIMUcompany
Source
LIMU