Nerium Celebrates Brand Center Opening In Richmond, BC
November 10, 2014
By Nicole Dunkley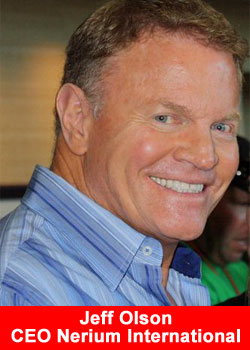 Nerium International™, a leader in age-defying skincare products, celebrated the grand opening of its British Columbia Brand Center with a ribbon cutting ceremony held on Saturday, November 1, 2014. Special guests in attendance included Mayor Malcom Brodie, City of Richmond; Roy Truett, President of International at Nerium International; and Belynda Lee, Regional Vice President of Sales and General Manager of Canada.
The new Brand Center allows consumers interested in Nerium to learn about and purchase the company's Optimera TM line of products. Since Nerium is a relationship marketing company that sells its products through direct sales, the Brand Center also serves as a resource center for Nerium's Brand Partners that sell the products, providing them with advanced relationship marketing tools and materials to help them grow their personal businesses. It will also offer multi-lingual customer support. The Brand Center, which is 4,300 square feet, is the first Nerium International Brand Center in Canada.
The opening celebration, which took place at the new Brand Center located at Unit 130 – 11120 Horseshoe Way, Richmond, BC, included a red carpet, ribbon cutting, refreshments, giveaways, gift bags and a lion dance. Speeches were given by Mayor Brodie, Truett, and Lee.
Nerium International first began offering its Optimera line of products in Canada earlier this spring. The line includes a night cream and a day cream that both contain the patent-pending SAL-14™ extract, a botanically-based blend featuring Biden pilosa, an ingredient known for its advanced age-fighting properties. Optimera has been proven to dramatically reduce the appearance of fine lines, wrinkles, uneven skin texture, aging or loose skin, discoloration and enlarged pores.
This new Brand Center will help thousands more in Canada achieve the kind of success that our Brand Partners in the United States have seen since Nerium launched there in 2011, said Truett. Providing an easily accessible Brand Center in Richmond to help Brand Partners in Canada grow and thrive their new businesses is an essential part of our international expansion, he added.
About Nerium International:
Nerium International™, LLC, headquartered in Addison, Texas, is a relationship marketing company that markets breakthrough products validated by science. Since its August 2011 launch in the U.S., Nerium has reached record-breaking sales and earned industry accolades while building millions of consumer fans along the way. Led by an award-winning executive team with more than 200 years of collective industry experience, Nerium is committed to developing and distributing skincare products that are rooted in real science, produce real results, and improve consumers' lives. For more information, please visit www.mynerium.com.