PartyLite Key Sponsor Of Humane Society
November 19, 2014
By Tina Williams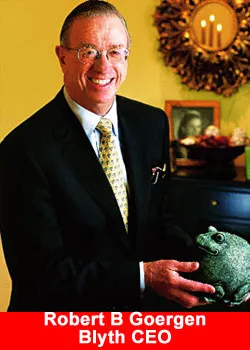 It's always a super glamorous event when 500+ guests from all over the world gather in New York City for the annual black-tie Gala of The Humane Society of the United States — the nation's largest and most powerful animal protection organization.
But this year, on Nov. 21, after walking the red carpet and enjoying cocktails, guests will sit down for dinner at tables featuring candleholder sculptures of the very animals they are raising funds to protect.
Center stage on each table will be dramatic centerpieces donated by PartyLite featuring the newest designs from the new Jonathan Adler for PartyLite® Safari Chic Collection. The golden glow of candlelight will emanate from the newest votive, pillar and tealight holders, among them will be Adler sculptures of beloved animals — elephants, zebras and lions. Cocktail tables will feature his stunning gold Santorini Hurricanes, accompanied by his charming Squirrel Tealight Holder and, Jonathan's personal favorite, the Peace Dove Tealight Holders.
We became sponsors of this year's HSUS Gala because it's such a perfect fit, says Rob Goergen, President of PartyLite Worldwide. They wanted to make this year's Gala even more special to celebrate their 60th anniversary. At PartyLite, we're celebrating the success of our first Jonathan Adler for PartyLite Collection and welcoming the next one, which debuts Dec. 19 for winter-spring 2015. We're actually providing a sneak preview of these fabulous designs and irresistible animal sculptures to some of the most passionate animal lovers in the world, and we're delighted to do it for this great cause.
Goergen noted that the decision to become an HSUS sponsor for this year's Gala reflects the famous heart of PartyLite spirit of the company. PartyLite is the world's #1 candle party company, he says, and our products are sold in 23 countries around the globe. This year marks our 41stanniversary, and the people who make up the PartyLite family have always been involved in causes that work toward making life better. In the United States PartyLite has raised more than $14 million for the American Cancer Society since 1997. Preventing animal abuse is a cause we are happy to support as well. We all love animals, too!
In addition to the Jonathan Adler for PartyLite centerpieces, PartyLite is donating all of the candles used during the HSUS Gala and giving each guest a special Fresh Home by PartyLite™ Perfect Pet Odor Neutralizing 3-Wick Jar Candle, which features a lemony verbena floral fragrance to freshen pet-friendly spaces with a cheery scent.
About PartyLite
PartyLite is the world's #1 party plan company selling candles, candle holders, flameless fragrance and wax warmers as well as holiday and home decor available in 23 countries predominately through independent PartyLite business entrepreneurs. Since 1997, the PartyLite family of consultants, customers and employees has raised more than $14 million for the American Cancer Society and nearly $4 million for Children's Miracle Network. In 2014, PartyLite celebrates 41 years as the global leader in its category and 24 years as a member of the distinguished Blyth family of direct selling companies (BTH).
PartyLite is one of 53 Direct Selling Association member companies recognized during the 2014 annual meeting for participating in DSA's Code Communication Initiative, focusing on observing and communicating the DSA Code of Ethics as widely as possible. Based in Plymouth, Massachusetts, PartyLite is a member of the Direct Selling Association and the Better Business Bureau.