Top Industry Leader Freddy Melero Joins LIMU
November 14, 2014
By Team Business For Home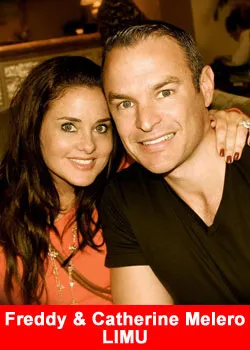 Freddy and Catherine Melero are two of the most passionate and high profile entrepreneurs in the industry.
As 17-year direct sales veterans, they've become prolific at turning big passion into big profit — having recently reached $2 million in earnings in their former opportunity.
They also have a true passion for people, having impacted tens of thousands of lives in markets all across the globe, or as Freddy puts it: "empowering and inspiring people to be more, do more, and have more."
From his first introduction to network marketing, he's been enamored with the whole industry and how you can leave people better off than you found them.
"We believe we have the best chance at success right here, right now at LIMU. High-quality products, aggressive international expansion plans, an unparalleled compensation plan and the incredible marketing buzz that's already here, align perfectly with our energy, vision and goals.
This company has been a hidden gem for ten years — it's the best kept secret in the industry! This is a rare moment — leaders from across the industry are taking notice and realizing what we have going on here at LIMU. That's why I'm so excited to be joining forces with top Industry leader, Matt & Leigh Ward!"
It's even more than that. After seeing the good, the bad and the ugly of the industry over the years, other factors became important in the Meleros' search for a company to call "home" — values, culture and leadership that gets it.
"This is a company that has been debt-free and profitable since Day One. The CEO, Gary Raser, is a 25-year industry veteran, who was a very successful distributor in his own right, until he decided to start his own company. He's a distributor's CEO."
With a drive to teach, train, and mentor others to success, the Meleros are excited about the future, saying "Changing lives is our clear and powerful LIMU Mission.
In all we do, we inspire and motivate people to take their lives to new heights, to go beyond their dreams, to help others create stronger futures. I am excited to be a member of this LIMU family, and to be a part of this vibrant and growing brand."
Freddy believes that LIMU is poised for explosive growth, as the company already looks like a billion-dollar brand.
"I challenge everyone to look at how LIMU is different and to be more! This is a company that has more, offers more and delivers more."