2 Year Anniversary Of $1 Billion Bet Against Herbalife: $97.4 Million Spent On Case
December 20, 2014
By Tina Williams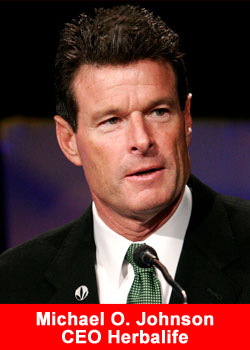 It's been two years since Bill Ackman launched the billion-dollar short bet heard 'round the world.
On Dec. 20, 2012, the founder of Pershing Square Capital Management LP announced his bet against the nutritional supplement company Herbalife Ltd. in a three-hour-plus PowerPoint presentation that spanned 334 slides. He called the company a "pyramid scheme" and said it has caused "enormous harm" to "vulnerable communities around the world."
As of Thursday's close, Herbalife's stock was down about 11% from where it closed on Dec. 18, 2012 (word that Mr. Ackman was betting against Herbalife leaked the day before the presentation, causing the stock to drop). That change masks two years of massive volatility in the stock, millions spent by Mr. Ackman spelling out his case and millions spent by Herbalife defending its business model.
In the meantime, some of the world's best-known money managers have piled into the stock, taking the other side of Mr. Ackman's bet. Feuds between Mr. Ackman and some of his nemeses have been thrown into the public spotlight and at least one feud has morphed into perhaps a friendship.
Here's a look back at Mr. Ackman's Herbalife bet by the numbers:
Mr. Ackman's short position in Herbalife: $1 billion
What Mr. Ackman has spent making his case that the company is a pyramid scheme:$50 million (as of July 2014)
What Herbalife has spent on its defense: $47.4 million (as of Oct. 30 2014)
Number of days that Herbalife's stock has moved 10% or more: 12
Federal agencies that have been looking into Herbalife, according to filings and WSJ reports: 4 (FBI, DOJ, FTC, and SEC)
Major money-managers betting on Herbalife: 6 (Carl Icahn, George Soros, Richard Perry, Dan Loeb, Kyle Bass, and William Stiritz.)
Herbalife board seats held by Mr. Icahn's associates: 5 of 13 directors
Analysts with a Buy rating on the stock: 4, according to FactSet (2 have neutral ratings and none have sell ratings).
Average price target on Herbalife's stock: $63.80
Number of activist campaigns launched since start of 2013: 594, according to FactSet.
Number of those activist campaigns still pending: 286
Originally reported by: https://blogs.wsj.com/moneybeat