Foru International Appoints New CEO
December 22, 2014
By Team Business For Home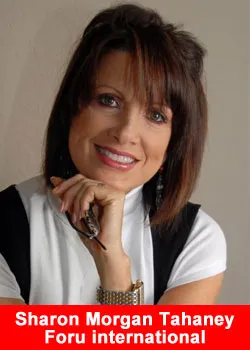 Foru International, the leader of personalized health, beauty and wellness products and subsidiary of foru Holdings, Inc. (OTC: FORU), is pleased to announce that seasoned MLM and direct selling executive Sharon Morgan Tahaney has returned to the Foru team as the new President.
"We are beyond thrilled to have someone with Sharon's experience, passion, and marketing know-how lead the foru team," said Gil Peter, Founder, foru International. "Sharon's proven track record of operational excellence and remarkable leadership capabilities will allow us to further our premium skincare and nutrition products."
Sharon grew up in a direct selling family and has worked with direct selling companies from both the field and corporate office for more than two decades. She has experience with both start-ups and billion dollar corporations.
Sharon spent eleven years with Tupperware, most recently as Sr. Vice President of Leadership Development. Sharon also served as a creative resource for more than eight years for Mary Kay and was one of the few authorized to write a book for Mary Kay about Mary Kay Ash. Sharon has authored four personal finance books for independent entrepreneurs and a strategy book for direct selling executives.
"Connecting innovative products to consumers through passionate and committed entrepreneurs has been both my love and my business for a lifetime," said Sharon Tahaney. "foru is a unique product, using certain individual DNA measures to create personalized products to help people look and feel their best. There is nothing else like it in the world."
Sharon will be replacing former President Karl Krummenacher who led the foru team since its acquisition, and recently announced his departure to pursue a lifelong interest in publishing. "Karl was a key asset during our acquisition, creating the foru brand and moving our products and company forward during a complicated transition. We support his transition and believe Sharon's tenacity, depth and extensive experience is what will help the foru products become a household brand," added Mr. Peter.
About Foru International:
Founded in 2012, foru International is at the forefront of the field of personalized nutrition and wellness. By using a proprietary DNA assessment as a basis for personalizing health, beauty and wellness products, foru International's mission is to support health conscious consumers as they strive to live longer, healthier lives. The first company to offer wellness and beauty products personalized based on certain individual genetic variations, foru's premium products are exclusively available through Independent Brand Partners. To learn more about opportunities with foru International or their personalized products visit www.foru.com.
Foru International is a subsidiary of Foru Holdings, Inc. (OTC: FORU), a publicly traded company whose mission is to provide greater access to products and services that uniquely enhance the well-being of consumers and give people new opportunities to contribute to and protect the world around them.
For information on foru Holdings, Inc, please visit their website at www.foruholdings.com.