Freddy & Catherine Melero Hit 200K With LIMU In Less Than 45 Days
December 22, 2014
By Nicole Dunkley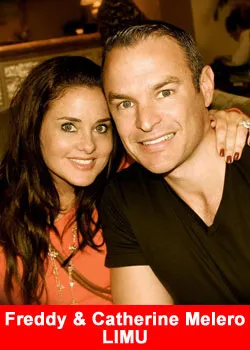 Freddy & Catherine Melero joined LIMU less than six weeks ago and they are continuing to climb the ranks quickly, reaching 200K in less than 45 days. With their pre-launch activities for LIMU Latino well underway, these 17-year industry veterans are showing that the LIMU opportunity is a great one for their team.
Freddy talks about being "LIMUed Up" because he is so excited about the company, its products and its fast growth. "We hit the 200K rank because the LIMU system is simple to understand and easy for anyone to build with. Our team has been running hard and getting very fast success with LIMU."
The 200K rank is another major milestone in LIMU's Prosperity Plan, as Promoters receive a $20,000 cash bonus, one of many cash bonuses that they'll earn as they grow their team. The Meleros had previously hit the 100K rank and been awarded an all-expenses-paid trip to the Atlantis Resort in the Bahamas, along with an initial $10,000 cash bonus. LIMU offers a total of $730,000 cash bonuses to Promoters that hit ranks from 100K to 2M.
Freddy and his team are seeing major achievements by their Promoters during the pre-launch of the LIMU Latino initiative. "We see clearly by our early success that LIMU is the perfect place for the kind of dramatic growth we are looking for, and we are attracting new people to our team every day because the LIMU brand is a great one for the Latino market and beyond. Our preparations are in place for our official nation-wide LIMU Latino launch at the LIMU International Convention on February 13th and 14th and we are looking forward to what will be a huge 2015."
About LIMU
Founded in 2004, and profitable and debt-free from day one, LIMU is a leading direct sales company focused on providing entrepreneurs with exclusive and proprietary Fucoidan-rich products made in the USA, along with the unique opportunity to create their personal LIMU Experience and Be More. Award-winning branding and marketing help support LIMU Promoters, and state-of-the-art technology platforms make it easy for Promoters to share the LIMU Experience and build strong global businesses. With over 1,100 independent, third-party, unsolicited studies on its super-nutrient Fucoidan – available on pubmed.gov – the company is the acknowledged category-creator and worldwide leader for LIMU products.
LIMU and the LIMU logo are registered trademarks of The LIMU Company, LLC in the U.S. and other countries.
For more information, please visit: www.thelimucompany.com and www.yopros.com
Follow LIMU on Facebook, Twitter, YouTube and Instagram:
https://www.facebook.com/LIMUco
https://twitter.com/LIMUthecompany
https://youtube.com/LIMUcompany
https://www.instagram.com/theLIMUcompany
Source
LIMU