Industry Leaders Andrew & Nancy Burling Join ForeverGreen
December 6, 2014
By Nicole Dunkley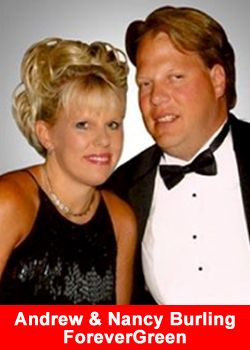 ForeverGreen Worldwide Corporation, a leading direct marketing company and provider of health-centered products, announced that recognized industry leaders and top earners Andrew and Nancy Burling are among the newest members of the fast-growing international network that is ForeverGreen.
With more than 40 years of combined experience in the industry, they were not actively looking for a new opportunity. However, the Burlings were drawn to ForeverGreen by the category-creating FGXpress model that has been driving the company's growth. Mr. Burling said, "We believe ForeverGreen with FGXpress is destined to become a dominant brand in the network marketing industry. Shipping a physical product and paying commissions in more than 175 countries during a pre-launch phase was eye-opening and astonishing. We knew something big was going on, and we immediately wanted more information. When the timing was right, we made the call, flew in, and shifted our total focus to ForeverGreen."
On October 8, 2014, the Burlings' Global Win Team arrived in Utah with more than 100 prospective members to take a look at ForeverGreen. "The culture of ForeverGreen is very warm and welcoming. The response was astounding. The timing was perfect, and the experience has created a frenzy of continued activity," Mr. Burling said. That day, the Burlings reached the rank of 3-Star in ForeverGreen.
Noting the international footprint of ForeverGreen, Mrs. Burling said, "The company is doing something no other has done, and that has attracted leaders from not only North and Latin America, but Europe and Asia as well." She continued, "A global, seamless binary allows us to participate in a genuine international opportunity."
The Burlings further elaborated that their team loves Ron Williams, founder and CEO of ForeverGreen, and the FGXpress vision. "It's big," said Mr. Burling. "We are thrilled to be home, and welcome you home as well."
About ForeverGreen
ForeverGreen Worldwide Corporation develops, manufactures and distributes an expansive line of all natural whole foods and products to North America, Australia, Europe, Asia and South America, including their new global offerings, PowerStrips, SolarStrips and BeautyStrips. They also offer Azul and FrequenSea, whole-food beverages with industry exclusive marine phytoplankton, the Versativa line of hemp-based whole-food products, immune support and weight management products, Pulse-8 powdered L-arginine formula, TRUessence Essential Oils and Apothecary, 24Karat Chocolate and an entire catalog of meals, snacks, household cleaners and personal care products.