Jeunesse Bestowed Prestigious Awards In Asia
December 16, 2014
By Tina Williams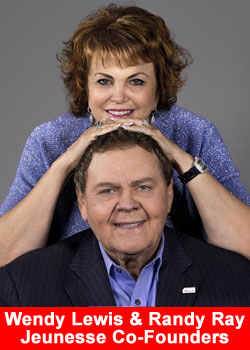 Last month, Jeunesse was bestowed four significant awards by Toper Malaysia at the 8th Independent Entrepreneurs Team Building Convention (IETC 2014).
The ceremony took place on Sunday, November 16, at the Putra World Trade Center in Kuala Lumpur. On stage to receive all four awards was the General Manager of Jeunesse Malaysia and Singapore, Paul J. H. Lim.
After a strict selection process, Jeunesse won the following awards: the Fastest Growing Company of the Year Award, the MLM Paragon Award, the MLM Golden Midas Award, and the YES Brand Award.
The Fastest Growing Company of the Year Award acknowledges outstanding sales performance while the MLM Paragon Award recognizes company integrity and commitment to countries in South East Asia. Jeunesse received the MLM Golden Midas Award for strategic marketing, dynamic leaders, and efficient training systems. The YES Brand Award was bestowed for successful developmental management through branding initiatives.
These awards add to the many recognitions earned by Jeunesse in the last few months. In August, Jeunesse ranked at #258 on the INC. 500 List—making it the #1 fastest growing Direct Selling Association Company on the list. In September, Jeunesse won multiple Stevie Awards for developing their Jcloud™ technology at the 11th Annual American Business Awards.
And just last month, Co-Founder Wendy Lewis was named Woman of the Year at the 2014 Stevie Awards for Women in Business in New York.
About Jeunesse
Jeunesse is a leading direct selling company devoted to encouraging healthy living. Company research focuses on adult stem cell science, telomere support, DNA repair, fat loss technology, and nutrigenomics. Products are made in the USA and are exclusively formulated for Jeunesse.
With a multi-lingual customer service, back office support team, global enrollment system, and in-house programming already in place, the company is fully operational in 32 offices around the world. Its distribution channels extend to over 100 countries. Jeunesse and the Jeunesse logo are registered trademarks of Jeunesse Global, LLC in the U.S. and/or other countries. For more information, please visit: www.jeunesseglobal.com.
Follow Jeunesse on Facebook or Twitter
https://www.facebook.com/TheScienceOfYouthfulAging
https://twitter.com/jeunesseglobal
Related Links
https://www.jeunesseglobal.com
Source : Jeunesse