New Company, UNO Premier, Launches Lavishly
December 30, 2014
By Tina Williams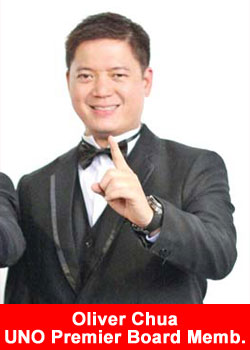 Celebrities converged for a night of glitz and glamour as Unlimited Network of Opportunities Inc. International (UNO Intl.) introduced its newest brand for the highend market, UNO Premier. Held at the Enderun Colleges at the Fort, among the celebs spotted were Jean Garcia, Vivian Velez, basketball player Don Allado and many others.
The affair started with audiovisual pre sentations about the milestones of its mother company, UNO, and the introduction of its new, luxurious and highquality product line under the UNO Premier brand. The company is proud of its tradition as the leading network marketing company in the country, dwarf ing other competitors with its over 500,000 strong members/ distributors worldwide.
The collective presentations of trailblazing UNO Board members William Barbo, Oliver Chua and Herbie Chua also showcased the new digital media arms of the company such as the UNO Premier website, UNO Apps and Facebook page. They also highlighted a new, prestigious office address at The Fort, Taguig.
Oliver Chua introduced Le Jeune Cosmetiques, a luxurious makeup line that includes Le Jeune Minerals, cosmet ics infused with the opulence of 24karat gold microparticles, and delivered with the finest natural ingredients sourced from Japan, Switzerland and Germany. The line also includes Mineral BB Foun dations, Multipurpose Mineral Eye shadows, Mineral Lip Lacquer, Mineral Lip and Cheek Tint. Each set contains a powder brush and dual eyeshadow/ eyeliner brush made of the highest qual ity softest vegan hair, to ensure precise and perfect application.
He also unveiled the Sante 8 Berries, a natural powerful antioxidant that contains various extracts, including green tea and watermelon and ProCardio, a product that contains Nattokinase, an enzyme that helps to lower blood pressure and cholesterol.
Chua unveiled the Nutrifab product, which is a first for a network marketing company. "Nutrifab is a pickled plum which contains many nutritious active ingredients. Nutrifab has a lot of health benefits such as blocking the production of fat or belly fat, increased metabolism, and lowering of bad cholesterol levels. This product is very effective because it contains Garcinia Cambogia extract. This extract car ries a large amount of a natural substance called Hydroxycitric Acid (HCA), which promotes massive weight loss."
Herbie Chua revealed a new, sleek UNO website. "The aesthetics of the website is specifically designed to reflect the more refined taste and mentality of UNO Premier's market. The clean and minimalist style serves as the perfect backdrop that allows its visitor to focus more on the content of what the UNO Premier website has to offer."
Chua also announced the complete suite of UNO Premier digital media such as the firstever UNO Premier application for An droid, which one can freely download from the Google Play Store. UNO Premier also launched a Facebook page for announce ments and promos.
UNO Premier's president William Barbo said, "When people ask me what is one of the methods of achieving success, I simply say, success first is found within oneself and the desire to take action to achieve it."
"Through UNO Premier, you will harvest success in yourself through its resources. UNO Premier is pioneering a new business innovation, starting with the expansion of its new line of introductory products such as Nutrifab. Its mother com pany UNO started from the introduction of household goods, beauty products and food supplements — UNO has everything you could ever need. Its various products also boast of national and international certifications, assuring you and your con sumers of its safety and legitimacy."
He also said that quality products could only do so much, so UNO Premier developed a bulletproof marketing and business development system that consists of a "10 Ways to Earn" marketing plan and UNO Premier AllAccess Card to increase the members' capacity to earn more.
UNO Premier has brought onboard respected and popular International Motivational and Application Success trainer and coach Johnny Scofield, who is now one of the key members and exclusive corporate consultant for UNO Premier. "In 22 years of being in this wonderful industry there are only a very few moments in time you will encounter a small window of opportunity that will open up to you that can truly trans form your life and make you a millionaire, and it just so happens that UNO Premier is one of them," Scofield said.
On its eighth year, mother company UNO now has a nationwide and world wide presence due to its everincreasing international business centers which started in Hong Kong and Macau, followed shortly by Singapore, United Arab Emirates, Abu Dhabi and the United Kingdom. They are set to expand soon to the US, Nigeria, Canada and Europe.
On the roster of members is global boxing sensation Manny Pacquiao.
The company has produced over 800 millionaires within its eight years of exis tence. It has won numerous awards and citations from different awardgiving bod ies and it is the only ISOcertified network marketing company in the Philippines.