Talk Fusion Live Meetings Beta Test Hugely Successful
December 23, 2014
By Nicole Dunkley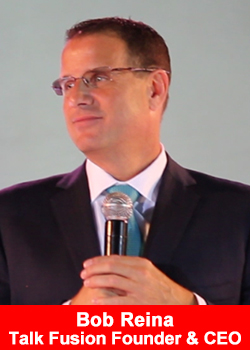 Results from several weeks of closed beta testing have been extremely positive for Talk Fusion's restyled CONNECT Live Meetings video conferencing platform. Beta tester response to astounding new additions – like browser sharing during presentations, plus the redesign of the user interface and presentation creation capabilities – has been overwhelming.
"I just tested the beta version of CONNECT Live Meetings. I'm speechless," beta tester Michael Nueberg responded. "You have developed a great work here; Live Meetings is simply brilliant."
What Talk Fusion is about to do to will shock the video communications world," remarked beta tester Kelton Alexander. "Revolutionary person-to-person direct communication and a live video meetings system unlike anything ever been done before."
Live Meetings has been given a complete visual make-over to match the clean, crisp look of the soon-to-be-released all-new TalkFusion.com website, while maintaining the industry-leading features that have made it so popular. CONNECT Live Meetings lets users easily and quickly conduct online conferences, training sessions, business calls, and product demonstrations – even live seminars and customer workshops.
"Our Associates and Customers are all extremely excited about how CONNECT Live Meetings will change the way the world communicates," said Talk Fusion Founder & CEO Bob Reina. "We can't wait to share it with people around the world."
As part of Talk Fusion's life-changing business opportunity, the innovative Live Meetings video conferencing platform ushers in a new era of unlimited possibilities for Talk Fusion's Independent Associates, who continue to share their excitement for the future.
"CONNECT has it all! I'm only literally one click away from building my business with Talk Fusion. I've never seen a product like this – classic design, clean interface, user-friendly – and the best part is we get paid to share," proclaimed Associate Carlos Palma.
Even those without innate familiarity with computer-based products have taken to Live Meetings' new, sleek interface. "At age 61, I have yet to own a cell phone. I thought technology was passing me by," explains beta tester Coni Papin. "Now here I am blowing my friends and family away with how I CONNECT with the world. Live Meetings is so easy even I can do it."
Live Meetings, along with the rest of Talk Fusion's CONNECT innovative video communication suite, is scheduled for launch in early 2015.
ABOUT TALK FUSION
A global leader in video communication products, Talk Fusion connects people around the world through cutting-edge video technology and the means to share it, empowering them to live their dreams. Talk Fusion's innovative video products are marketed person-to-person by independent Associates in more than 140 countries.
Founded in 2007 by CEO Bob Reina, Talk Fusion introduced the world's first Instant Pay Compensation Plan. Talk Fusion adheres to the highest ethical business practices and is a member of the prestigious Direct Selling Association (DSA). Reina firmly believes that "with great success comes greater responsibility."
Talk Fusion fosters a strong commitment to giving back to friends, family, communities, and animal charities across the world to produce a positive global change. Learn more at www.TalkFusion.com and "Like" Talk Fusion at www.facebook.com/TalkFusion.