Top Internet Marketers In Direct Selling – Poll 2014
December 22, 2014
By Team Business For Home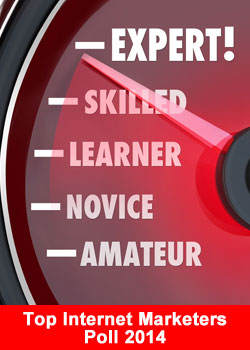 The Top Internet Direct Selling Marketers. Internet marketing, also known as digital marketing, web marketing, online marketing, search marketing, is referred to as the marketing of products or services over the Internet from home or any place.
Marketers who can drive loads of prospects to websites for a small fraction of traditional advertising budgets. Leaders you have to follow if you want to build an online business, unless you want to invent the wheel again…
Some have mailing lists up to 3 million subscribers, some have one primary opportunity, others believe in multiple streams of income. Some build their own lessons, funnels and systems, others uses companies software.
Sometimes they are behind the curtains in Direct selling opportunities.
Marketers who can make a business opportunity an huge success. Masters in article,video marketing and sales funnels.
Innovators, leaders and teachers! Did we miss an huge Internet Marketer? Please send then a message to Ted Nuyten
The poll will close January 31 – 2015
We love to have your facebook comment
You need to be connected to your Facebook account to vote!
Scroll down to vote or to comment (Under the photo's)
The Top 80+ Top Internet Marketers of the year 2014.
Below results are in Real Time:
How to vote:
1. Select your Top Internet Marketer in the drop down box on the left.
2. Push the vote button.
The full list
Please hold on..