Zija International's Améo Independent Distributors Reach Early Success
December 9, 2014
By Nicole Dunkley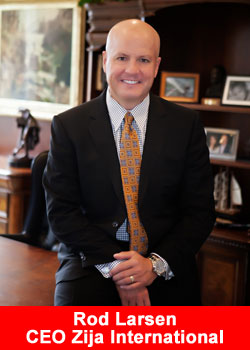 Since launching Améo Essential Oils in September, Zija International has had several Independent Distributors quickly achieve the Rank of Diamond, a notable accomplishment within the company. These Distributors and their stories have been highlighted on ameo.com and they continue to reach new levels of success each week. Read their inspirational stories below:
Michael J. McLean:
"In 2005 I was introduced to the power of quality essential oils. Initially, I was a little skeptical about their use and the people who were using them. However, it didn't take long before I was totally convinced of their power. I had several personal experiences that have changed the way I look at natural or alternative health solutions. Once I had these experiences I knew that I would forever be an evangelist for oils. I just needed to find the right company, with the right quality promise, that was committed to uniting the scientific world with the holistic world. When the concept of Améo was introduced to me, I immediately knew that my search was over and that Améo would be my home.
During the last 15 years I have had the opportunity to work within the direct sales industry. I have served in various leadership roles with companies ranging from startups to industry giants. In that time I have learned that the direct sales industry is one of the most powerful distribution models ever created. The reason why is because it is truly all about people. The focus of our industry is both on the individual Distributor and our customers. By nature I am a gregarious person. I love working with people and helping others achieve their dreams. This is the only industry that doesn't judge based on sex, color, education, etc. We can all become what we want regardless of our background. In every instance in which I have experienced the elation of success, it has been because I put my own personal interest aside and focused on helping others achieve their goals. What I have learned is that when I put others' interest in front of my own I was able to achieve my own goals. The amazing thing is that when we fully understand this point, we can all achieve our own personal interests.
One of the most important things I've learned from some of my personal mentors is that you have to be a product of your product. If you are not using and experiencing them, how can you expect someone else to join you? Since my introduction to essential oils both my family and me have become diehard product users. We keep it on hand at all times. You never know when opportunity will knock. The question is will you be ready to answer? I am a novice to Zija's Moringa products; however, since signing on with Améo as the Brand Ambassador, we have been using SmartMix, the new Ripstix line, and several other products. What I have truly loved is how well the oils and Zija products work in concert with one another. We have seen some remarkable results with our combined product lines. I can only imagine what the future has in store.
Zija International's motto of Life Unlimited perfectly captures me and my family's personality. We are an active and outgoing group of people. My wife (Lindsey) and I have four young children who are constantly on the go. During the past decade or more of my professional career, work dominated my life. I have missed more games, recitals, and family functions due to work than I would like to admit. Since joining the Zija and Améo family I have been able to achieve both personal and professional goals without sacrificing one or the other. It may be hard to believe, but I am now working more than I did when I held my corporate positions. The big difference now is that I can do it with my family. I am so grateful to Zija, to Rod Larsen, Ken Brailsford, and the other executives for having the vision to introduce the highest quality essential oils to the highest quality dietary supplements in the world. I truly feel blessed to be a part of something so amazing."
Jon & Daniela Raynes:
Jon and Daniela were raised countries apart but were destined to collaborate from the start. Jon was raised in an Educator's home, centered on travel, teaching and learning, as his father was the Dean of a local College. Daniela was raised with network marketing roots as her father started the Canadian division of a major pioneer in the health and wellness industry. Thanks to network marketing she was able to immigrate to the United States via Seoul, Korea, where she met Jon in Utah.
After only one year of marriage at ages 21 and 22, Jon and Daniela were among the first 10 employees of a startup network marketing functional beverage company. This company went on to do $350,000,000 in sales at their peak. Over four years' time they grew into positions in marketing and branding (for Jon) and Distributor Leader Manager (for Daniela.)
They left corporate and became Distributors, managing their own position to allow Daniela to work from home after the birth of their first son. During this time Jon graduated cum laude from the University of Utah in business. They were also hired as CEO of their Sponsor's high-ranking Distributorship, with sales of over $1,000,000 a month, at which point the position achieved its highest qualification. They sold their Distributorship and Jon became the sole breadwinner while Daniela dedicated her efforts to the raising of their two sons.
Over the next five years, Daniela enjoyed motherhood and Jon continued to grow through various corporations as director of Canadian Markets, Network Marketing Divisions, and programs. When Mike McLean (thank you Mike!) approached Jon to become a Distributor for Améo, he immediately recognized this as the opportunity he had been prepared for his whole career. Daniela was less enthusiastic. From day one, Jon's drive and consistency proved to Daniela that she could take courage in the efficacy of Améo's Essential Oils, corporate team and science, which proves his proficiency in the art of persuasion.
Instant results from these incredible oils and Zija's other products sealed their drive to share this opportunity with the world. They experienced clearer skin thanks to Tea Tree oil and weight loss thanks to Trim & Tone oil as well as Zija's XMburn and SmartMix. They used Determination and Myrtle oils to calm and focus their ambition and decreased their toxic loads by replacing their cleaning supplies with Pür Vie. They are fortifying their family's immune system with ProShield. They are helping increase their ability to work out harder and longer with Wintergreen and Ripstix Recover. They are continually amazed with the results that the Améo, Zija Core Nutritionals, and Ripstix Supplements products produce.
Since we started building our Améo business, we've learned one very important lesson: outwork your mistakes! You see, no one's perfect and everyone makes mistakes in building this business. However, if you are working hard enough and fast enough, when you hit the snags and barriers, the momentum keeps you moving through the difficulties! Then you can learn from your mistakes and grow, instead of being stuck by your mistakes and failing. Get moving to keep moving!
McKenna & Stephen Gordon:
I feel so honored to be a part of Zija, and for the opportunity it gives my family and me to help others. Selling things is something I refuse to do, probably because I'm so awful at it. But teaching others about natural living, sharing products that can change the lives of my loved ones, and helping others see how great they are is something I feel called to do in life. My goal is to grow this business continually, in a way that I can look back and be proud of HOW I got there.
I have loved making Zija, Améo and Ripstix a part of my daily life. My body has been loving the process of beginning to become a product of the product and my family has been enriched by participating together in the growth of a business that focuses on helping others and improving the world.
My team is so important to me and I'm so proud of each of them. They work hard, they serve people, they reach out and give, and give, and give—and eventually it comes back to them tenfold in business and personal growth. I can't thank them enough for taking the chance on this company and on me as their leader. I learn from them daily and I get so excited and celebrate their successes as if they were my own!
It doesn't matter if you are fast or slow. Consistency is what will get you to where you want to be. Thank you to the entire Zija team for making this possible for my family and me!
Jon & Brittany McGarry:
Jon McGarry has spent the past fifteen years successfully climbing the corporate ladder with various network marketing companies. He's gained immense experience through fascinating opportunities of travel and adventure while building lasting relationships with network marketing professionals. He's observed and learned from some of the greatest in the industry, mingling with success every day.
During his years on the corporate side, Jon was revered as a liaison for the top distributors of the companies he represented. Together with his wife, Brittany, they traveled to exotic locations with these individuals and witnessed firsthand their lifestyle. The time and effort these distributors put forth was truly theirs and they reaped what they sowed.
Not so long ago, Jon's experiences and relationships all aligned, and he recognized an opportunity that comes once in a lifetime. He was introduced to the vision of Améo Essential Oils and acknowledged it as the moment his life experiences had prepared him for. Just a few short months ago, he resigned as a founding executive and Vice President of Sales for a leading publicly traded network marketing company. As he likes to say, he 'fired his boss.' He assumed complete responsibility to build his own legacy on his own terms and is now fulfilling his own dream and inspiring others to do the same.
'If you could see in a vision what you can become, you would rise up and never be the same.' Jon and Brittany have accepted this challenge to succeed and are grateful for an amazing team who inspires and teaches them daily. They have found the ladder to their potential at Améo. They have steadied this ladder on the solid foundation that Zija International offers with their experience, outstanding products and desire to deliver the utmost quality in all that they do.
This is the business of people and genuinely fulfilling a need that others have, whether it be financial, social, health or time freedom. It also arouses a will-power within yourself, a desire to develop and learn and become—not for the sake of yourself, but for the sake of those you are leading. This is a selfless business, and as they climb higher on the ladder, they only rise when they help others up along with them.
Their question to you is: If you could see in a vision what you could become, would you rise up? Would you challenge yourself to obtain greatness?
Jon and Brittany define Life Unlimited as time and financial freedom. They are now where it matters most, with their beautiful family. This opportunity allows them to enjoy the great outdoors, museums, concerts, random adventures and, most importantly, everyday moments. Let the good times roll!
About Zija International
Zija International, a privately held and privately funded business founded by Kenneth E. Brailsford and run by Rodney Larsen, develops natural health, wellness, nutrition and fitness products. The company operates in more than 50 countries worldwide.
Zija has seen consistent growth every year since it was founded over 9 years ago and was recently named the "Fastest-Growing Company in Utah" by Utah Business Magazine. It has also been recognized on fastest-growing and top-revenue lists by Inc. Magazine, Direct Selling News, and Utah Valley Magazine, to name a few.
With corporate offices located in Lehi and more than 4 million sq. ft. of state-of-the-art warehouse, shipping and manufacturing facilities located in Utah, United States, Zija International employs more than 200 individuals and has the capacity to grow to more than two billion dollars in annual sales.