Herbalife Further Strengthens Its Corporate Affairs Team
January 29, 2015
By Tina Williams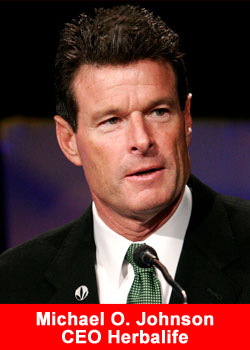 Global nutrition company Herbalife, (HLF) announced today that Marcus Reese joins the company in the newly created role of vice president, state and local government affairs, reporting to Alan Hoffman, executive vice president, global corporate affairs.
In this role Reese will be responsible for managing Herbalife's relations with state and local thought leaders around the country. Having spent more than 16 years in the public policy arena, Marcus brings a wealth of experience that will help educate policy makers and the public about the positive role Herbalife is playing in our communities.
"Marcus is an important addition to the team as we continue to inform and educate key thought leaders about the positive impact Herbalife is having on communities across the nation," said Hoffman. "I am pleased to welcome someone with Marcus' knowledge and experience to Herbalife, and have no doubt he will have an immediate impact in this important area."
"Having worked with Herbalife for the past year, I have seen first hand what a great company it is and the important work it is doing to help people live healthier, more active lives, as well as the opportunity it offers to those who want to earn additional income," said Reese. "I am excited to be part of the team that gets to tell that story."
Reese joins Herbalife after a 16-year career in public affairs, most recently as chief of staff at Tusk Strategies, a public affairs consulting firm, where he managed state and local regulatory issues for corporate clients and issue advocacy organizations including Uber, AT&T and Wal-Mart.
Earlier in his career, Reese worked at Weber Shandwick, serving as vice president for the corporate issues team, where he was responsible for providing legal and crisis communications counsel for clients such as Unilever, Exxon and Honeywell.
Before joining Weber Shandwick, Reese served as senior director at Smith & Co. where he provided legal and crisis communications counsel for elected officials. Marcus has also served in various campaign and government roles for President George W. Bush; Staten Island District Attorney Dan Donovan; Lt. Governor Michael Steele and the Georgia State Legislature, among others.
Reese is a graduate of the School of Communications and Journalism at Auburn University.
About Herbalife Ltd.
Herbalife Ltd. is a 35-year-old global nutrition company that sells weight-management, nutrition and personal care products intended to support a healthy lifestyle. Herbalife products are sold in more than 90 countries to and through a network of independent distributors. The company supports the Herbalife Family Foundation and its Casa Herbalife program to help bring good nutrition to children.