Javita Experiencing Rapid Growth – Sales Up 150% in 2014
January 15, 2015
By Team Business For Home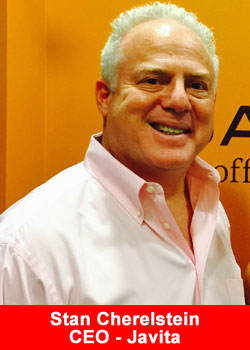 As Javita completes its third full year of business, its annual sales are up more than 150%.
With consistent monthly increases in the numbers of new customers and new members, Javita's sales during 2014 more than doubled from the prior year.
Javita's growth also means more Members are achieving elite leadership ranks, including five new Diamonds and others advancing to Blue Diamond, Royal Blue Diamond and Black Diamond.
In addition, there are currently more than 200 Members driving BMWs that are being paid for by the company as a part of Javita's BMW Car Bonus Program.
2014 was a great year for Javita, said Javita President & CEO Stan Cherelstein.
Our Customers and Members are enjoying our products, and many are realizing the financial rewards of the business.

It's heartwarming to see our products and business positively impacting people's lives.
We are still a small emerging company, but we are set on becoming much larger, with a global footprint. Our management team has over 150 years of industry experience and we understand what it takes to grow and manage a large direct sales business.
We just try to do what is right and make the best decisions for our Members, Cherelstein said. We have some basic philosophies we follow: Treat our Members as we would like to be treated, and keep things simple.
Javita is a privately owned debt free company, which places it in a great financial position to invest in future growth. In 2014, two new Executives were added to the team; Mr. Bob Ulrich as Vice President of Leadership Development and Mr. Raul Martin as Vice President of Business Development – Hispanic markets.
Both of these executives come with many years of experience with multi-national direct selling companies.
Javita, with global headquarters in Boca Raton, Florida, is a company committed to enhancing the lives of millions of people by bringing together two great industries – coffee and direct selling. Javita offers unique, great tasting products and an incredible business opportunity that can enhance people's lives – one cup at a time.
The company has offices and warehouses in North America, Europe and Asia and does business in more than 30 countries globally. Millions of people already have coffee in their life, Javita gives you coffee for your life. To find out more about Javita visit www.javita.com or to read the latest Javita news go to www.gojavita.com.