Medifast Named SmartCEO Future 50 Award Winner For 4th Consecutive Year
January 24, 2015
By Tina Williams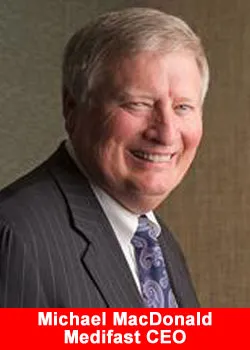 Medifast, Inc. (MED), a leading United States manufacturer and provider of clinically proven, weight-loss and healthy living products and programs is proud to be recognized by SmartCEO magazine as a 2015 Future 50 Blue Chip company for the fourth consecutive year
The prestigious annual Future 50 award honors a range of growing businesses in the Baltimore region including 50 fast-growth mid-sized companies, five small Emerging Growth companies and five large Blue Chip companies. As a Blue Chip winner, Medifast was identified as one of Baltimore's leading businesses with strong foundational leadership and an innate drive for success.
Medifast has continued to advance as a leader in the weight-loss industry and we are pleased to again be recognized by SmartCEO, said Mike MacDonald, Chairman & Chief Executive Officer of Medifast. This past year, we expanded into new markets and product categories to reach new customers. We partnered with Fitbit™, the market leader in the connected activity tracking space, and introduced an online tool for consumers to better track their progress. Our launch of new products and programs and entry into the connected health and wellness space supports our focus on enhancing the customer experience and helping to make a healthy lifestyle a reality for our customers.
SmartCEO Future 50 award winners are chosen based on a three-year average of employee and revenue growth. This year's winners collectively generate $2.1 billion in annual revenue and employ 11,495 individuals in the Baltimore metro region.
Medifast will be profiled along with fellow award winners in the January/February issue of BaltimoreSmartCEO and will be celebrated at an award reception on January 22.
About Medifast:
Medifast (MED) is the leading easy-to-use, clinically proven, weight-loss program. The company sells its products and programs via four unique distribution channels: 1) the web and national call centers, 2) the Take Shape For Life personal coaching division, 3) Medifast Weight Control Centers, and 4) a national network of physicians. Medifast was founded in 1980 and is located in Owings Mills, Maryland.