Primerica Promotes Glenn J. Williams To CEO
January 6, 2015
By Nicole Dunkley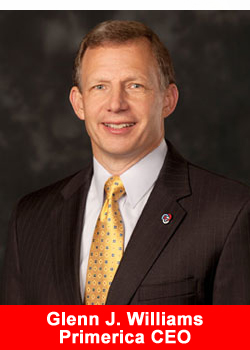 Primerica, Inc. announced that its Board of Directors has promoted Glenn J. Williams, currently the company's President, to Chief Executive Officer and also elected him to the Board, effective April 1, 2015.
The current Co-Chief Executive Officers, D. Richard (Rick) Williams and John A. Addison Jr., will remain members of the Primerica Board. In their new roles, Rick Williams, who has been with Primerica since 1989, will be non-executive Chairman of the Board and John Addison, who has been with the company since 1982, will be non-executive Chairman of Primerica Distribution.
The Board also announced that it has promoted Peter W. Schneider to the position of President, also effective April 1, 2015.
"Glenn has served as our 'right hand man' for the past 10 years and we are confident that he is the ideal leader to take the helm of our company and continue our growth trajectory." said Rick Williams. "He possesses tremendous depth of understanding of our sales force and for many years has successfully overseen marketing for all Primerica business lines. He has valuable experience running our Canadian operations and leading Primerica's overall management team, and he has been at the forefront of our most successful initiatives."
John Addison said, "One of Glenn's strengths is his close relationship with our sales force leadership and the mutual respect they have for each other. We will remain focused on enhancing the business opportunity for our representatives." He noted that this change represents an effective execution of Primerica's well-established management succession plan. "There is no success without successors. We are constantly working to develop our next generation of leaders across the company, and Glenn's career path demonstrates that our program works," he said.
"The Primerica Board congratulates and thanks Rick and John for their extraordinary leadership and long list of accomplishments over the last 15 years, said P. George Benson, Lead Director and Chairman of the Board's Corporate Governance Committee. It was through their vision, hard work, and determination that Primerica became a publicly traded company on April 1, 2010. Both now feel that the healthy state of the company makes this the right time to make a leadership transition. The Board worked very closely with Rick and John to identify the perfect successor and is delighted that Glenn will serve as Chief Executive Officer. Glenn's 33-year history with Primerica, his understanding of and commitment to maintaining the company's unique culture, and his exceptional leadership skills make him the ideal person to continue the momentum initiated by Rick and John."
"I am honored to be selected by the Board to serve as the next CEO following two great leaders like Rick and John, and I'm excited to lead our strong and experienced team of sales force leaders and corporate executives," said Glenn Williams. "I look forward to building on our successful strategy to grow distribution, increase earnings and deploy capital to drive long-term value for all of our stakeholders. Our strengths include our exceptional sales force of more than 97,000 independent business men and women who make a difference in the lives of millions of people every day, along with our dedicated Home Office team. I'm committed to leading our clients, representatives and associates to achieve the success they deserve. Further, I am excited to have Peter Schneider serve as our President. He is a proven leader who is uniquely gifted to work alongside me leading our talented executive team and our sales force as we continue to grow Primerica," said Glenn Williams.
Rounding out Primerica's executive group are Alison Rand, who has served as the Company's Chief Financial Officer since 2000, and Gregory Pitts, a 30-year Primerica veteran who will continue as our Chief Operating Officer. "Our senior leadership team, working closely with our other executives, is one of Primerica's greatest assets, and we are ready to lead the Company in its next era of growth and opportunity," said Glenn Williams.
Glenn Williams, age 55, began his career with Primerica in 1981 as a member of the company's sales force. He joined the Home Office team in 1983. In 1985, Williams moved to Canada as part of Primerica's international expansion team, where he spent 15 years in roles of increasing responsibility. He led Primerica Canada as President and Chief Executive Officer from 1996 to 2000. In 2000, he returned to Primerica's Duluth, Georgia-based headquarters as Executive Vice President of Field and Product Marketing for international operations. In 2005, Primerica elevated Williams to President of the Company. A native of Stockbridge, GA, Williams is a graduate of Baptist University of America, where he earned a Bachelor of Science degree in Education.
Schneider has served as the Company's Executive Vice President and General Counsel since June 2000 and as Chief Administrative Officer since 2010, and he will retain his General Counsel duties for the foreseeable future. During his tenure with the Company, Schneider has had responsibility for compliance, government relations, media relations, human resources and initiatives to grow our sales force. Schneider, 58, received his Bachelor of Science in Industrial Relations with Highest Honors in Political Science and his Juris Doctor with Honors from the University of North Carolina at Chapel Hill.
About Primerica, Inc.
Primerica, Inc., headquartered in Duluth, GA, is a leading distributor of financial products to middle income households in North America. Primerica representatives educate their Main Street clients about how to better prepare for a more secure financial future by assessing their needs and providing appropriate solutions through term life insurance, which we underwrite, and mutual funds, annuities and other financial products, which we distribute primarily on behalf of third parties. In addition, Primerica provides an entrepreneurial full or part-time business opportunity for individuals seeking to earn income by distributing the company's financial products. Primerica insured more than 4 million lives and have over 2 million client investment accounts at December 31, 2013. Primerica stock is included in the S&P MidCap 400 and the Russell 2000 stock indices and is traded on The New York Stock Exchange under the symbol "PRI".