Vemma Announces Second Year Breaking $200 Million Worldwide Sales
January 19, 2015
By Team Business For Home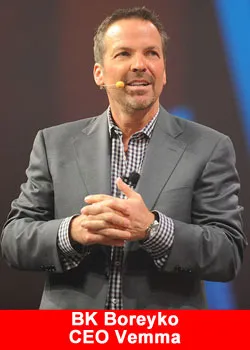 For seven years, global wellness company Vemma Nutrition steadily climbed and in year seven, finally hit the coveted $100+ million a year mark. Now, after just completing its ninth year, Vemma is proud to announce its second consecutive year of sales exceeding $200+ million while achieving significant milestones for the company's future growth.
"The year 2014 was a watershed one for Vemma. We invested over $15 million back on into our manufacturing infrastructure; created a new, 52,000-square-foot, state-of-the-art Home Office, and upgraded our IT systems to a robust new system supported by InfoTrax," says Vemma Founder and CEO BK Boreyko.
"Now that we're built out to reach $600+ million in sales, it's time to get to work while continuing with our strategy to 'Make Success Simpler' in 2015."
Now entering its tenth year, Vemma continues to expand its market reach both domestically and internationally. With new infrastructure in place in these critical areas and a focused vision, Boreyko says Vemma is poised to handle explosive growth in the coming years.
"We took our eye off the ball a bit last year while trying to stay ahead of our growth. Now we've refocused our leadership to get back to our core business, which is innovative nutrition," explains Boreyko.
To deliver on this strategy of providing innovative nutrition, Vemma's newest product, a high-protein, ready-to-drink meal replacement shake called Bode Build, will hit the market the week of January 26.
"This protein shake has 25 grams of protein and boasts only 12 net carbs. This is the best-tasting shake available anywhere in the world. It's truly a game changer," says Boreyko.
"If you buy into the concept that convenience is the No. 1 product in the world and you see the empires that have been built with a powdered shake mix, you're going to immediately realize what kind of business can be built after you crack open a can and have your first taste of Bode Build."
Check out this video of BK's 5 Reasons to Choose Vemma in 2015
https://www.youtube.com/watch?v=cc0_V9Qw6gg
Bod? Build is also part of a new Bode PRO 24/7 program endorsed by TV Celebrity Transformation Specialists and Bode Pro Spokespeople Chris and Heidi Powell.
"If you give us 24 days, we'll show you how you can drop up to 7 pounds and improve your fitness and create a healthy lifestyle—that's Bode PRO 24/7," says Boreyko. "I guess you can say '24' is the new '90' when it comes to weight loss challenges."
About Vemma
Founded in 2004 by BK Boreyko and his two sisters, Karen and Lauren, Vemma Nutrition Company has become known as one of the premier industry leaders specializing in premium liquid nutrition. Every month, thousands of new customers experience the positive difference of the clinically studied Vemma Formula. The Vemma brands include the clinically studied Verve® healthy energy drink and Vemma Bod-e®, a transformational weight loss line. Vemma is headquartered in Tempe, Arizona, and distributes its products in 51 countries through global affiliate marketing. For more information, please visit Vemma.com.