Zija International Holds Annual Diamond Club Retreat
January 19, 2015
By Nicole Dunkley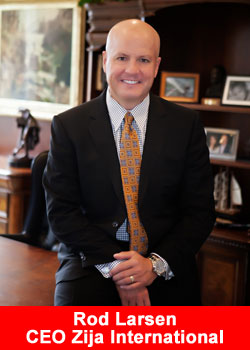 Zija International Diamond Club members—those with the Rank of Diamond and above—as well as their guests were recently flown out to enjoy Zija's mountainous home base in Utah! They enjoyed an all-expense paid leadership retreat at the beautiful and snowy Canyons resort in Park City. There were several exciting announcements made regarding upcoming opportunities for Zija Distributors and customers. Highlights of the weekend included:
· The announcement of the ROC (Repeat Order Customer) Star Promotion, which allows qualifying Distributors to earn a FREE 150 PV AutoShip of their favorite products month after month.
· The new Zija 2015 Product Catalog was given to attendees, which is an amazing new marketing tool that will soon be available for digital download and in print.
· The unveiling of the new ROC Enroll to Life Unlimited brochure, a pocket-sized way to present Zija International on-the-go.
· The announcement of Zija International's new social media suite, which provides shareable assets that Distributors can use to educate others on all of the company's products—Zija Core Nutritionals, Améo Essential Oils and Ripstix Fitness Supplements.
· The announcement of Zija International On the Ground (OTG) in Japan. SuperMix will be available On the Ground beginning March 25th, which means that it can be purchased without customs and international shipping fees! Japan OTG will officially launch at the Zija Japan Grand Opening Event March 25th at Maihama Ampitheatre at Tokyo Disney Resort. For more information, click HERE.
· Leadership training from Zija Executives and top field leaders.
· Relaxing at the spa where they were able to experience the rejuvinating effects of Améo Essential Oils.
· Snowmobiling through the beautiful mountains of Utah.
· Skiing the best snow on earth in Park City.
About Zija International
Zija International, a privately held and privately funded business founded by Kenneth E. Brailsford and run by Rodney Larsen, develops natural health, wellness, nutrition and fitness products. The company operates in more than 50 countries worldwide.
Zija has seen consistent growth every year since it was founded over 9 years ago and was recently named the "Fastest-Growing Company in Utah" by Utah Business Magazine. It has also been recognized on fastest-growing and top-revenue lists by Inc. Magazine, Direct Selling News, and Utah Valley Magazine, to name a few.
With corporate offices located in Lehi and more than 4 million sq. ft. of state-of-the-art warehouse, shipping and manufacturing facilities located in Utah, United States, Zija International employs more than 200 individuals and has the capacity to grow to more than two billion dollars in annual sales.