Zija International Recaps 2014 As "Best Year Yet"
January 18, 2015
By Nicole Dunkley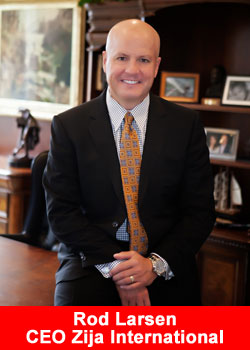 Zija International recently concluded its "best year yet" according to the company's President and CEO, Rodney Larsen. "As we start a new year, it's been fun to look back and see all that was accomplished in 2014; we gained major momentum, turned some important heads in the industry, and shattered our own records—as well as industry records—time and time again." That growth and success is a result of an ever-increasing excitement for Zija International's cutting-edge product divisions and business opportunity—all of which are centered around its "Life Unlimited" motto.
Here are some highlights from the company's monumental year:
· Over a year of research and development in the making, Zija International launched two brand-new product divisions. Améo Essential Oils and Ripstix Fitness Supplements each serve different market sectors and provide more opportunities for Distributors to reach individuals looking for improved health and wellness. (ameo.com, ripstixsupplements.com)
· Zija International expanded its horizons by opening in several new international markets including Vietnam, Indonesia, Chile, and Costa Rica. It also entered pre-launch mode in South Korea, which is already experiencing some of the most expansive growth the company has ever seen. As a result of opening in this new market, two new Black Diamond Distributors emerged, Dai Cho and Steven Kang (Chang Kang). Zija's new market development team also held several international tours throughout its emerging markets in Europe and Asia in the fall. At the end of 2014, Zija International was operating in 50+ countries worldwide, with plans to enter several more in 2015. The history books are open and Zija is writing history in the direct sales/network marketing industry with this international success.
· Zija International received several awards in 2014, including landing on Inc. Magazine's Inc. 5000 for the 2nd year in a row, being recognized as one of the fastest-growing and top-revenue companies in Utah Valley for the 2nd year in a row as part of the Utah Valley BusinessQ UV50, receiving its first MountainWest Capital Network Utah 100 award as one of the fastest-growing companies in Utah, moving up on the Direct Selling News DSN Global 100 list, being named the #1 fastest-growing company in Utah by Utah Business Magazine, and receiving 5 MarCom awards for the launches and branding of Améo Essential Oils and Ripstix Supplements.
· It was a big year for recognition, with a record number of Distributors rising in Rank. Soon after the launch of Améo Essential Oils, some of the division's first field leaders—namely Michael J. McLean, Jon & Brittany McGarry, McKenna and Stephen Gordon, and Jon & Daniela Raynes—became the division's first Diamond and above Distributorships. Zija Europe's first Diamond and above Distributors, Tom Wikman and Jacqueline Hekneby, also emerged for the first time.
· Zija International's top field leaders were flown to San Diego, California in January for the Diamond Club Retreat and Maui, Hawaii in June for the Black Diamond Club Retreat. These all-expense-paid getaways included training from corporate and field leaders; world-renowned inspirational speaker Dan Clark even led several sessions of training in Maui. Attendees were also treated to local excursions, participated in team building activities, and were the first to hear and give feedback on new tools and programs.
· Zija International celebrated the completion and opening of a brand new shipping warehouse in Vineyard, Utah. The 63,000 square foot (3 million cubic foot) space, along with an additional 40,000 square feet of off-site storage, was designed and created to accommodate future company expansion. It has the ability to add more racking, automation, production, and shipping capabilities. The warehouse fulfills an average of 70,000+ invoices per month for the United States alone; products are also shipped from the facility to 25+ international markets around the globe
When asked about how the company plans to outdo itself in 2015, Ryan Palmer, Zija's Vice President of Sales, commented: "We have some major plans for this year that include building upon what we've recently done. It's been a wild ride and we're going to keep that momentum alive. We've been fortunate to have steady, healthy growth and that's opening new doors. Our Distributors, customers and employees have a lot to be excited about right now!"
About Zija International
Zija International, a privately held and privately funded business founded by Kenneth E. Brailsford and run by Rodney Larsen, develops natural health, wellness, nutrition and fitness products. The company operates in more than 50 countries worldwide.
Zija has seen consistent growth every year since it was founded over 9 years ago. With corporate offices located in Lehi, Utah, Zija International employs more than 200 individuals and has the capacity to grow to more than two billion dollars in annual sales.