Advocare A Major Sponsor In Daytona 500
February 23, 2015
By Tina Williams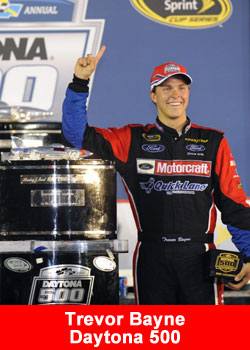 Trevor Bayne returns to the site of one of the most historic moments in sports history on Sunday afternoon for the 57th running of the Daytona 500.
In what will be his Roush Fenway Racing debut in the NASCAR Sprint Cup Series (NSCS), Bayne will take the green flag on Sunday at Daytona International Speedway (DIS) piloting the No. 6 AdvoCare Ford Fusion. This marks the first time that a No. 6 Roush Fenway Ford will compete full-time in the NSCS since 2011.
"To get to drive the No. 6 Ford Fusion for Jack Roush is a dream come true," said Bayne. "This is something that I have been waiting for my entire life. I can't thank Jack enough for standing by me and for giving me this opportunity. I also can't say enough about AdvoCare and their commitment to this race team. To have them on this No. 6 AdvoCare Ford for the full season is incredible and I hope that we can reward them on Sunday by getting another Daytona 500 trophy."
Bayne qualified the AdvoCare Ford in the 15th position during Sunday afternoon's qualifying session to set the field for Thursday evening's Duel 150 qualifying races. With his odd-numbered qualifying effort, Bayne will be in the first of the two Duel 150 events and will take the green flag from the seventh position. His result in the Duel will determine where he will start "The Great American Race" on Sunday.
Bayne's name will forever be synonymous with the famed 2.5-mile superspeedway. On Feb. 20, 2011, Bayne shocked the sports world by becoming the youngest race winner in the history of the Daytona 500, taking the checkered flag at 20 years and one day old. In a race dominated by the two-car tandem style of drafting, Bayne found himself up front throughout the afternoon, pacing the field for eight laps and holding off the field in a feverish green-white-checkered finish to cement his name in the annals of history at Daytona.
Along with Bayne, the No. 6 Roush Fenway Racing Ford has found success at Daytona. Dating back to Feb. 14, 1988, the No. 6 has recorded one win, 11 top five and 19 top-10 finishes at the 2.5-mile oval. Mark Martin also drove the car to victory lane at in the 1999 Unlimited All-Star race at Daytona. There have been three previous drivers to start the Daytona 500 in a No. 6 Roush Fenway Ford, Mark Martin, David Ragan and most recently, Ricky Stenhouse Jr. in 2012.
This weekend also marks the full-time return of 18-time NSCS race-winning Crew Chief Bob Osborne, who will be atop the pit box for the AdvoCare team for the 2015 season.
The Duel 150 qualifying races from Daytona International Speedway will begin at 7:00 p.m. ET on Thursday, Feb. 19 on FOX Sports 1 and MRN.
The Daytona 500 will take the green flag at Daytona International Speedway on Sunday, Feb. 22 at 1:00 p.m. ET on FOX and MRN.
Roush Fenway Racing is the winningest team in NASCAR history, fielding multiple teams in NASCAR Sprint Cup Series and NASCAR Nationwide Series competition with drivers Greg Biffle, Ricky Stenhouse Jr., Trevor Bayne, Elliott Sadler, Ryan Reed, Chris Buescher and Bubba Wallace. Now in its 28th season, Roush Fenway is a leader in driver development, having launched the careers for many of the top drivers in the sport. Off-track, Roush Fenway is a leader in NASCAR marketing solutions, pioneering motorsport's first team-focused TV show and producing multiple award-winning digital and experiential marketing campaigns.
Roush Fenway is co-owned by Jack Roush, the winningest team owner in NASCAR history and Fenway Sports Group, parent company of Major League Baseball's Boston Red Sox and English Premier League's Liverpool F.C. Visit RoushFenway.com, circle on Google+, become a fan on Facebook and Instagram and follow on Twitter at @roushfenway.