GWT Ambassador, Jenett Beaver Reaches 25 Million in VDM Retail Sales
February 25, 2015
By Team Business For Home
The next time one of those JOB candidates or TRADITIONAL business candidates tell you that MLM doesn't work or it's not for everybody, forward them this feature article and say REALLY? Let's ask Pilipino native Jenett Beaver who now lives in Canada and operates one of the most successful GWT Virtual Designer Malls in Global Wealth Trade. How successful? $25 million + in retail sales successful.
Before she launched her first MLM business with GWT, Jenett was struggling with her own traditional business. She recognized GWT's home/internet business platform to be the best and the fastest business to expand.
Her motivation was to leave a legacy to her four children as well as changing lives of Filipinos around the world. Well today Jenett's dreams have come true with many achievements including GWT's 10K Freedom Club (earning $10,000 + per month).
"As I was growing up, I always wanted to own a business. I knew that for me to be able to leave a legacy for my 4 children; it would have to be through a business. I could not pass on a job to my kids after my retirement so I knew that a job was out of the question especially when the government stats show that 95% of working people end up dead or dead broke from a job at age 65.
So I started a traditional business over 12 years ago. I used to own a handbag business as a supplier to one of the biggest department stores in Canada called Winners as well as other boutiques around the world. My traditional business was doing great for a while because my biggest client, Winners was buying $30,000 to $50,000 worth of Handbags every month. Life was pretty good but I was working 14 to 16 hours a day. I was so tired all the time and my overhead was $20,000 per month whether I had sales or not.
This was when I got introduced to Global Wealth Trade. I never knew that this kind of business existed. A business where you can start a designer business from home marketing the celebrity's designer brand worn by hundreds of Hollywood celebrities for less than a few hundred dollars. No inventory to carry, no monthly overhead and I can work from home and online. So I jumped at the opportunity and launched my GWT Virtual Designer mall (VDM) right away.
I started promoting my VDM part time at first while operating my traditional business. After investing $250,000 in my traditional business that came with $20,000 per month overhead, my life went upside down when Winners stopped placing orders. My business went down dramatically and I lost everything I had invested. It was a horrible and terrifying time not just for me but for my family. Now where is the legacy for my children?
Fortunately, although still new, my part time GWT VDM was already generating me residual income and retail sales. In fact, a short while later, some people I had introduced to GWT had a very fast start and my business was exploding globally. I couldn't believe it! My $169 part time GWT VDM had become a multimillion dollar online business with far more retail sales than my $250,000 traditional business with big clients such as Winners.
GWT saved my life and I realized that losing my traditional business was a blessing that enabled me to work full time promoting my GWT VDM. Today 7 years later, GWT has been nothing short of a dream for me. GWT has enabled me to build that legacy for my 4 children setting them up for life. In just 7 years, my $169 GWT VDM has accomplished what most million dollar traditional businesses will never accomplish and the best part is it's all online, and all RESIDUAL INCOME.
Imagine a home/internet business that you can launch on a PART TIME bases for only $169 that can create millions in retail sales like mine did in just a few years. GWT is creating millionaires as fast as 27 months, how? Because VDM owners get paid up to 8% for life on all those sales. It's HARD TO BELIEVE? It should be but it's true and I am proof that anyone with no experience in MLM can be successful in GWT as a luxury Consultant. In fact in 9 short years, GWT currently has consultants in 91 countries around the globe because it is both internet based and home based and the designer goods do not require government approval in any country like health and wellness and telecom MLM companies have to do.
CLICK the link below and watch the new mega Tour already being described as "THE BEST BUSINESS PROMOTIONAL VIDEO" in the industry titled 'Live Your Dreams" featuring the legendary Hollywood celebrity and Emmy Award winner Mr. Doug Davidson.
Live Your Dreams Tour
https://www.youtube.com/watch?v=dgpmOe_Y-0k
So if GETTIING PAID FOR WEARING THE HOTTEST DESIGNER GOODS, TIME PIECES, JEWELRY and accessories is an interest to you than watch the video below. With the all new Virtual Designer Party platform being introduced now, where people party through social media and get paid immediately, we will be creating even faster millionaires over the next 2 years.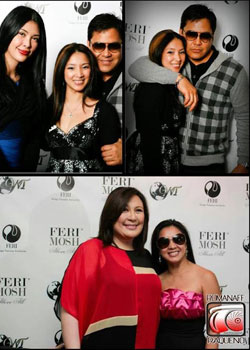 Today, my VDM business has expanded to over 80 countries and helped change lives around the world. In fact the very first person I shared this business with in 2008, Ambassador Rene Liaw has now become the youngest Millionaire in the company which only took 4 years to achieve. His income today surpasses $100,000 per month along with many other 6 figure income earners from Africa, Canada and USA!
It is really a dream come true for me and my children. This would never have been possible if not for the incredible mentoring of our CEO Ramin Mesgarlou and SVP Sanaz Hooman. I had no experience coming into direct sales but because of the systems, tools, training and beautiful products that they provided I have been able to achieve success!
So the next time you run into a SUN BLOCK (Forensic Networker term for negative people), forward them this feature and say "REALLY?"
"Prodigy Mindset" interview. DISCOURAGED? Need an UP LIFT?
Here is a gift for all Network Marketers. Below you will see the just released link of the most inspiring interview between two legends Ramin Mesgarlou aka the Forensic Networker and Hollywood legend and Emmy award winner Doug Davidson. It's titled "PRODIGY MINDSET" and it will eliminate your discouraging moments. So click, and prepare to be UP LIFTED INTO NEW REALITIES.
"Prodigy Mindset" presentation of the Forensic Networker, www.forensicnetworker.org
https://www.youtube.com/watch?v=eihhWR2JPZo
Contact details Jenett Beaver: