Holistic Health Expert, Erika Elmuts, Joins ARIIX
February 6, 2015
By Tina Williams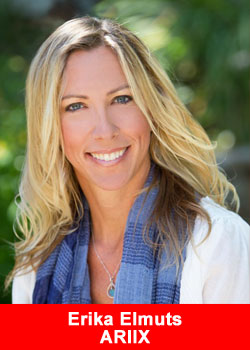 ARIIX, an international opportunity company that promotes healthy, toxic-free living, is excited to announce the appointment of Erika Elmuts, C.N., C.B.T., M.B.A., to the ARIIX Wellness Council.
Elmuts is a naturopath, clinical nutritionist, certified biofeedback technician and parenting educator, and has helped thousands of people get on the path to more vibrant health through her workshops, web site, videos, speaking engagements, and private practice. She is the founder of ConsciousParents.org, creator of the parenting program "Cultivating Conscious Children," and author of "The Family Guide to Detoxing your Body and Home."
The ARIIX Wellness Council is made up of an exclusive group of extraordinary experts and professionals that help shape the decisions and direction of the global ARIIX wellness product line. As a member of the Council, Elmuts will join with her peers in raising awareness of ARIIX products and creating opportunities for improved health and wellness within her community and around the world.
"Having dedicated more than a decade to educating and empowering people to live vibrant and healthy lives, I am thrilled to have the opportunity to share my knowledge and experience with a company that combines integrity and passion with leading edge science and is dedicated to exceeding all current standards in the industry for quality, purity, and consistency," she said. "I am honored to collaborate with other members of the council, and to create opportunities for millions of people around the world to experience true vitality and abundance in health."
Elmuts has been featured in The New York Times, The Ricki Lake Show, The Insider, Entertainment Tonight and NBC's Today Show. She is a regularly featured parenting expert on San Diego News 6 and Fox 5 San Diego, and her web site reaches people in over 55 countries. Elmuts is trained in clinical nutrition, biofeedback, epigenetics, essential oils, homeopathy, vibrational medicine, applied kinesiology, flower essences, color therapy, and energy psychology, and has a B.A. from Harvard and an M.B.A. from Babson College. She is passionate about supporting parents to raise physically, emotionally, and spiritually healthy children.
As an experienced business and marketing strategist, Elmuts has advised clients like Microsoft, Intuit, and Apple on brand strategy and marketing initiatives. Her passion for product development and understanding customers' needs is also evident in her role as co-inventor of the OXO Salad Spinner, one of the most successful products in the company's long history.
"I'm especially excited about the opportunity to be involved at the forefront of leading edge science and quality in the neutraceutical industry," said Elmuts.
"We are pleased to welcome Erika to the team," said Fred Cooper, ARIIX Chief Executive Officer. "Her dedication to helping others embrace the benefits of proper nutrition, detoxification, supplementation, and the body's miraculous ability to heal itself is a perfect fit for the Wellness Council. We know she will be a valuable member of our team and look forward to a future working together."
About ARIIX
ARIIX is an international opportunity company that creates superior, exclusively branded products marketed through independent representatives. To promote healthy living, ARIIX develops toxin-free products through collaboration with world-renowned experts in the health, wellness and fitness industries. With a devotion to helping others unleash their potential for good, ARIIX provides a global vision, outstanding management experience, driven industry leadership, and a valued partnership that protects its Representatives. This partnership is underscored by a patent-pending compensation plan created to give the greatest benefit to the Representative. The ARIIX opportunity and products are available in the United States, Canada, Mexico, Japan, China, Hong Kong SAR, Taiwan SAR, Singapore, Australia, the Netherlands, Portugal, Russia, and Kazakhstan.