Q Sciences Expands Internationally To South Korea
February 5, 2015
By Team Business For Home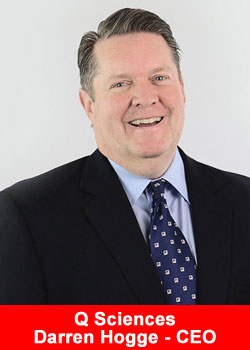 Q Sciences, a USA (Utah) based wellness company, announced today that they have expanded internationally to South Korea. As part of their continued global expansion, South Korea now joins the list of Q Sciences' international markets, which includes Canada, Australia, and New Zealand.
"I am excited and honored to bring Q Sciences' culture to the wonderful country of South Korea," said Daren Hogge, President, Founder, and CEO of Q Sciences. "Having traveled to South Korea over sixty times in my career, there is no better place to expand our Q Sciences business. Our products are designed to help people purify, optimize, and protect their health. I encourage everyone to take a serious look into Q Sciences and to become involved as a member."
With a strong economy and a direct sales market that ranks in the top five in the world, South Korea has long been a target of direct sales companies for international expansion. With this recent announcement, Q Sciences becomes the first direct sales company to be officially registered as a business in South Korea in over a year. Thanks to tremendous IBO leadership and corporate support, Q Sciences is excited to take its mission of helping people discover greater health and happiness to South Korea.
In addition to South Korea, Q Sciences continues to look for opportunities to grow internationally. With a flagship product in EMPowerplus™
Q96 that promotes mood stability, mental clarity, and improved cognition, Q Sciences' goal is to share their innovative line of health and wellness products with people around the world.

"Q Sciences' philosophy is based on doing the right things for the right reasons," said Marc Wilson, Founder and Executive Managing Director of Q Sciences. "I look forward to traveling to South Korea for my first time and meeting our new Q Sciences Independent Business Owners. My father fought in the Korean War and was wounded there fighting for freedom. I look forward to meeting the beautiful people and together creating a special company."

About Q Sciences

Q Sciences is a Utah-based wellness company dedicated to its customers, Independent Business Owners, and employees. Built on a foundation of proven science, Q Sciences' mission is to improve the quality of life through its core line of wellness supplements and innovative fitness products. More information about the company's cutting-edge products based on the most advanced science and technology is available at https://www.qsciences.com