QNET Expands West African Presence With Mali
February 19, 2015
By Team Business For Home
QNET, a prominent Asian direct selling company, is expanding its presence in West Africa by partnering with DMC Africa in Mali to serve its emerging base of distributors.
The company, which uses an e-commerce platform to offer a wide range of products and services, has a growing presence in Sub Saharan Africa with similar partnerships in Côte d'Ivoire and Burkina Faso in West Africa. In December 2013, QNET opened its first African office in Rwanda.
DMC, a Mali based organisation provides consulting services to companies seeking to operate in Africa. With this partnership, DMC will represent QNET in Mali to facilitate its online business operations in the country which includes registering products with the relevant authorities, appear as the official representative at local events and meetings with the government and help create awareness about the Direct Selling industry and QNET's role in it through events and special programs.
"We are very excited about this new partnership. DMC Africa has responsible government relationships and in depth knowledge about the process of doing business in Africa. Experts have dubbed Africa as the new frontier for the Direct Selling industry with significant growth expected in the next 15 years. We are happy to have the early mover advantage by expanding in the region by developing a partnership with a company that has a proven track record." Said Tim Harney, Senior Legal Counsel for QNET who was present at the press conference to announce the partnership.
According to the World Federation of Direct Selling Associations (WFDSA), the industry generated around USD 178.5 billion in 2013 globally. The report estimates that the Sub Saharan African region contributed around $400 million to the global revenues.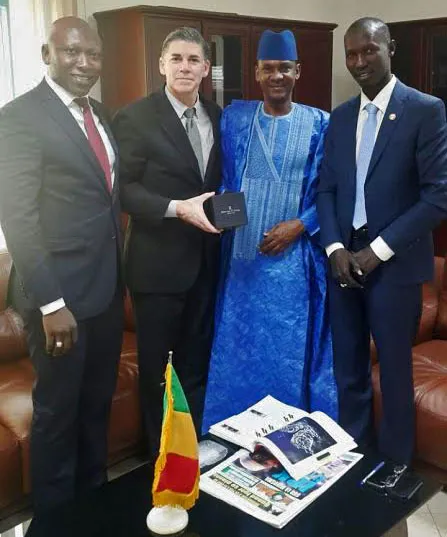 "QNET firmly believes that there is nothing more empowering to individuals than the financial freedom that a career in the direct selling industry provides, and we believe the people of Mali, with their ambition and strong sense of entrepreneurship, will appreciate the products we sell and the business opportunities we offer," added Tim Harney.
QNET sells a variety of exclusive and innovative products of high quality to enhance the lives of its customers around the world. QNET's range of products include 30 different brands under the categories of wellness, personal care products, jewelry, nutrition, holiday packages, watches, homecare, and online education. In Mali, the most popular products of QNET include the e-learning courses developed by the Swiss e-Learning institute. Courses in the Art of Management, Presentation and Communication skills, and the Mini-MBA program have been bestsellers in recent times. QNET currently has approximately 3000 registered Independent Representatives in Mali.
"QNET is bringing an excellent opportunity to the people of Mali, especially the youth. We have seen how the company has enabled entrepreneurship in several other emerging countries in Africa. In Mali, the company's e-learning products are aimed at narrowing the education gap and we are proud to partner with them. "said Ms.Bintou Sacko, Marketing Director of DMC Africa.
Hon'ble Amadou Thiam, second deputy speaker of the Malian Parliament was also present at the Press Conference to show his support to this partnership.
Customers can purchase products from QNET only if they are referred by one of the company's IRs. The distributors earn a commission when their referrals purchase products from the company website. QNET provides a high level of support to its distributors, offering extensive product and sales training, marketing materials, and seminars.
About QNET
As a prominent Asian direct selling company, QNET provides a wide range of life enhancing products that are offered through its proprietary e-commerce platform to customers and distributors in over 100 countries. The company also has some 25 offices and agencies worldwide, and more than 50 stockists, apart from localized operations or franchisees in a number of countries.
QNET is a member of the Direct Selling Association of Malaysia, Singapore, and the Philippines. QNET is also a part of the Hong Kong Health Food Association and the Health Supplements Industry Association of Singapore among others.
QNET is active in sports sponsorships around the world, including Formula 1, football, badminton and more, due to the company's strong belief that the drive, passion and teamwork of sports mirrors that of QNET.
For more information, please visit QNET's website at www.qnet.net