Talk Fusion To Launch Video Chat Beta In Spring 2015
February 25, 2015
By Nicole Dunkley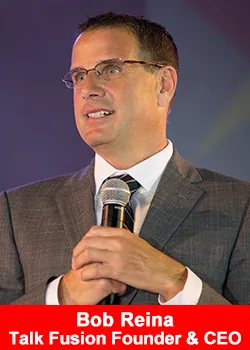 After thorough and successful testing, Talk Fusion is preparing to release the beta for their new Video Chat product to the public. The current release schedule is targeting Spring 2015 for the full-featured beta version.
A free demo of Video Chat is currently available on TalkFusion.com, but the full feature version will add substantial enhancements and functionality. Video Chat rooms will now handle up to 8 viewers, each able to join the room with a simple, single click of an invitation link.
Other newly-added features include the ability to text chat, share videos, and share files, making Video Chat perfectly positioned as a business communication solution for sales meetings, client conferences, and fast video conversation with text chat and file share. With its quick activation and no scheduling required, Video Chat is also ideal for personal video meetings with groups of friends and family.
Unlike current brand name video offerings, Video Chat was built upon WebRTC protocols. The result is noticeably sharper, clearer video and sound quality in addition to a stronger, faster connection than the current VoIP software that brand name chat programs use. These programs also usually require download and installation of their specific brand software or use of the same computer or phone platform between viewers; however, Video Chat's browser-based connection can be used cross-device with no software installed.
Talk Fusion Associate Collin Anglin illustrated the marked difference with CONNECT Video Chat for a business call. "I was at an organizational meeting for an event and one of our overseas members joined the conference using a 'well-known' video communication program. As soon as she joined, the call literally kept dropping every 60 seconds. After about 10 minutes of frustration, I told the committee member to check her email for a link (to Video Chat) and just click it."
That changed the call drastically for the better. "Within seconds, she was on a live CONNECT Video Chat. We had a crystal clear connection that did not drop a single time for the next 45 minutes. When the meeting was over, needless to say, everyone was very impressed!"
Video Chat is just one part of the Talk Fusion CONNECT video suite, designed to jump start a company's marketing and internal communication, save them time and money, promote the corporate brand and help build stronger customer relationships. CONNECT makes business Better with Video.
ABOUT TALK FUSION
A trend-setting industry leader, Talk Fusion connects people around the world through cutting-edge video technology for social and business communication. Talk Fusion's innovative video products are marketed person-to-person by independent Associates in more than 140 countries, empowering them to earn the financial freedom to live their dreams.
Founded in 2007 by CEO Bob Reina, Talk Fusion introduced the world's first Instant Pay Compensation Plan. Talk Fusion adheres to the highest ethical business practices and is a member of the prestigious Direct Selling Association (DSA). Reina firmly believes that "with great success comes greater responsibility."
Talk Fusion fosters a strong commitment to giving back to friends, family, communities, and animal charities across the world to produce a positive global change. Learn more at www.TalkFusion.com and "Like" Talk Fusion at www.facebook.com/TalkFusion.
Income Disclaimer:
Any earnings portrayed in any Talk Fusion marketing materials are not necessarily representative of the income, if any, that a Talk Fusion Associate can or will earn through his or her participation in the Talk Fusion Instant Pay Compensation Plan. All references to income, implied or stated, throughout the Talk Fusion Instant Pay Compensation Plan are for illustrative purposes only. These figures should not be considered as guarantees or projections of your actual earnings or profits. Talk Fusion does NOT guarantee any level of income or earnings to any Associate; any representation or guarantee of earnings would be misleading. The purchase of a Talk Fusion Product Package is completely optional and is not required for an Associate to participate in the Talk Fusion Instant Pay Compensation Plan.