Tom Bowman Joins Javita's Million Dollar Club
February 25, 2015
By Tina Williams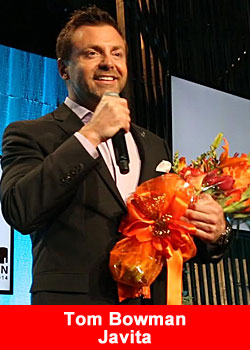 Tom Bowman, Royal Blue Diamond with Javita, recently achieved $1 million in lifetime earnings with the company, and is now the second Member to join Javita's Million Dollar Club. He credits his success with Javita's 'keep it simple' philosophy, and to his dedicated team who are passionate about changing people's lives. Several of his team Members are also poised to soon join Javita's Million Dollar Club.
Tom, who resides in West Palm Beach, Florida, USA joined Javita in late 2012, when the company was in its infancy. After almost a decade of experience and some success in the industry, Tom knew he had found exactly what he was looking for all along when he was introduced to Javita.
Since joining Javita, Tom has been instrumental in Javita's 30 consecutive months of sales growth.
I decided to join Javita because I wanted to be a part of a company that truly could change lives, not a company built only for the 'super stars.' I am committed to Javita because it's a company that puts people first above all else. Javita offers incredible opportunity to those who really want to change their family's health and financial situation.
Hitting the million dollar mark in such a short period of time is a real achievement for my family and me. We feel so honored for the hard work and sacrifice to have paid off in just two years. Javita has offered me an opportunity of a lifetime to not only change my life, but to change and positively affect the lives of thousands of people. I know this is just the beginning of a long and prosperous career with Javita.
Tom believes 'you are destined to win' at Javita if you just follow these three simple steps — Prepare, Share and Party! His team focuses 100 percent on the coffee party system because it is a proven system that works for everyone. Sharing Javita is simple because the products are already consumed daily and the health benefits are desired by everyone. It's not about selling Javita, it's about sharing a product and business that can make someone's goals a reality. I'm surrounded by people who are committed to building a business that will create a legacy for themselves and their families.
When it comes to how Javita has changed his life, the father of three said it's because of Javita that he is now able to provide for his children giving them the opportunity to do and become anything they desire.
When the economy crashed I was at my lowest point in life. I was forced to rely on my family for assistance, and at one point I was sleeping on my brother-in-law's couch. I knew this wasn't where I wanted to be or stay in life, so something had to change. I wanted to be there for my kids and I wanted to be the best father I knew I could be. If I can go from having no money in my bank account and having to use a food card to buy groceries for my kids, to where I am today, without a doubt anyone can do this.
About Javita
Javita, with global headquarters in Boca Raton, Florida, is a company committed to changing the lives of millions of people by bringing together healthy coffee and other beverages with direct selling. Javita offers healthy, unique, great tasting products and an incredible business opportunity that can enhance people's lives – one cup at a time. The company has offices and warehouses in North America, Europe and Asia and does business in more than 30 countries globally. Millions of people already have coffee in their life, Javita gives you coffee for your life.