Tupperware Ranked As One Of The Most Admired Companies In The World By Fortune Magazine
February 23, 2015
By Tina Williams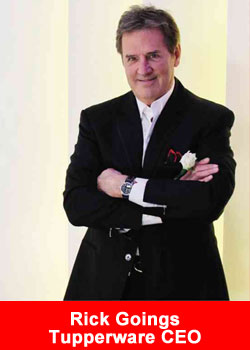 Tupperware Brands (TUP) has been named to Fortune magazine's 2015 World's Most Admired Companies list for the eighth consecutive year. The company is ranked on the annual list in the Home Equipment, Furnishings category.
Fortune uses nine key attributes of reputation to rank and select the most admired companies.Tupperware Brands was noted for global competitiveness, ranking first within the industry in that category.
"Tupperware Brands' global mission is to empower women around the world, enable their financial independence and change their lives through opportunity, support and relationships," said Rick Goings, Chairman and CEO of Tupperware Brands. "The strength of our mission and our people propels us as a company to continue our success. Global competitiveness is one of the priorities of the business, along with the other categories the list is derived from, and we are honored to be ranked on the World's Most Admired Companies list for the eighth year in a row.
The company ranked second in innovation and use of corporate assets in its industry. Other criteria contributing to the ranking includes social responsibility, people management, quality of products/services, quality of management, financial soundness and long-term investment value.
The Fortune World's Most Admired Companies list is seen as the report card on corporate reputation. Over 660 companies from 29 countries around the world were surveyed by over 4,000 participants in the process of creating the 2015 list. The rankings reflect the observations and opinions of industry executives, directors and analysts. The 2015 list can be found in the March 1, 2015 issue of the magazine, as well as online.
About Tupperware Brands Corporation
Tupperware Brands Corporation is the leading global marketer of innovative, premium products across multiple brands utilizing a relationship-based selling method through an independent sales force of 2.9 million. Product brands and categories include design-centric preparation, storage and serving solutions for the kitchen and home through the Tupperware brand and beauty and personal care products through the Avroy Shlain, BeautiControl, Fuller Cosmetics, NaturCare, Nutrimetics and Nuvo brands.