Herbalife Wins Major Lawsuit
March 22, 2015
By Tina Williams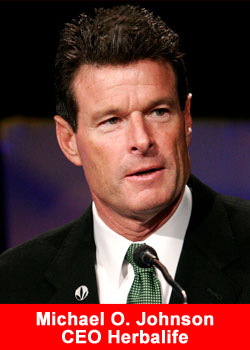 In a second major win for the week, Herbalife's newest victory is a mark for things to come. Reuters reports:
Herbalife Ltd (HLF.N) won the dismissal of a lawsuit that claimed the maker of weight-loss and nutritional products fraudulently portrayed itself as a legitimate company, and that shareholders lost money because it was actually an illegal pyramid scheme.
U.S. District Judge Dale Fischer in Los Angeles said that shareholders led by two pension funds did not show that questions raised about Herbalife's business by hedge fund manager William Ackman and various investigators showed that the company had fraudulently inflated its stock price.
Ackman and his Pershing Square Capital Management LP have campaigned against Herbalife since December 2012, when they revealed a $1 billion bet against the Los Angeles-based company. Herbalife has long denied it is a pyramid scheme.
Herbalife shares were up 9.4 percent at $37.68 on Wednesday afternoon after rising as much as 14 percent earlier in the session. They remain well below their January 2014 peak above $83.
Fischer on Monday rejected claims in the proposed class action that news about concerns from Massachusetts Senator Edward Markey, a Federal Trade Commission probe, weak quarterly results, and even questions raised by Ackman and hedge fund manager David Einhorn were corrective disclosures that revealed Herbalife's fraud.
Just as black swans may exist, there may theoretically be some form of opinion that is factual or revelatory in nature such that it qualifies as a corrective disclosure, Fischer wrote in a footnote. Such an opinion would need to reveal to the market something previously hidden or actively concealed. That is not this case.
The lead plaintiffs are the Oklahoma Firefighters Pension and Retirement System and the City of Atlanta Firefighters' Pension Fund. Their lawyer, Maya Saxena, on Wednesday said the plaintiffs are considering whether to amend their complaint.
Herbalife said it welcomed Fischer's decision.
We are confident in the strong fundamentals of our business model and remain committed to helping people and communities improve their nutrition, it said.
Critics have said Herbalife misleads distributors about how much they can earn, and that its success depends more on recruiting distributors than selling products.
Ackman told CNBC last week that federal investigators examining possible manipulation of Herbalife's stock price have subpoenaed people hired by a consulting group working for Pershing.
Another federal judge in Los Angeles will on May 11 consider final approval of Herbalife's $15 million settlement with distributors who said the company misled them.