Industry Leader Paulo Figueiredo Joins Preiscoin
March 25, 2015
By Tina Williams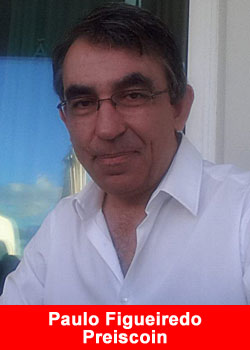 Preiscoin doesn't stop and it seems their leaders don't even sleep at night. The company welcomes Paulo Figueiredo as a great addition to it's highly experienced leadership.
The company has been quickly opening new markets and attracting top professionals to join forces with.
Paulo Figueiredo, born in Angola, moved to South Africa at an early age and then later to Europe. With a love for aviation he joined the Air Force and became an Air Traffic Controller. His experience and will to seek and expand his knowledge in aviation helped him go international, where he gained sufficient world wide experience with a focus on business.
Besides various international projects in aviation he has always dedicated a great part of his time to the MLM industry where he has built organizations with various companies such Herbalife, Quorum, uVme and others. With the technical evolution of the Internet he became fascinated with retail, loyalty cards, as well as virtual businesses.
With his experience of the "jetGO" loyalty card concept for private executive aviation operators, he came across Lyoness.
At Lyoness he held the position of Key Account Manager responsible for the "Key Account" contract management in countries such as Portugal, Spain, Italy and Turkey. Also during this experience he developed the markets for the Balkan area, including countries such as Bosnia, Montenegro, Serbia and other existing markets within the company.
His business knowledge and vision, his passion for "personal development", "public speaking" and team building has always lead him to focus on team building in various environments. Considered by many to be a "self made man" his personal strongest attributes that he easily likes to share amongst his acquaintances is personability, understanding, and objectiveness.
Preiscoin provides a global mobile peer-to-peer payment solution based on it's own digital currency. The customer can purchase a 'mining account' that will generate a fixed amount of Presicoins each month as well as very advanced online reseller tools.
Preiscoin offers 4% residual commissions on every sale down to 7 levels in the 3×7 forced matrix. Preiscoin offers also monthly bonuses, paying 100 CHF For every 10 paid customers that an affiliate brings into Preiscoin within a calendar month. If that affiliate brings in 20 paid customers in a month and receive 200 CHF / $ 213, bring in 30 and you receive $319.
The company has also a great incentive for the leaders which is a special Bonus Pool made out of 10% company's net revenue.