Isagenix Celebrates 13th Anniversary And Over $3 Billion In Sales
March 30, 2015
By Tina Williams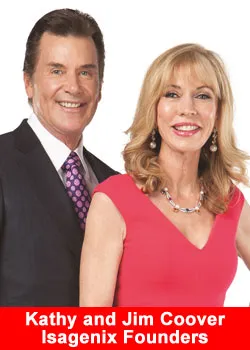 In a message to Isagenix distributors, Isagenix founders Jim, Kathy, and Erik Coover revealed the next facts and figures:
It's hard to believe it's been 13 years since Isagenix began operations from our humble roots in Chandler, Arizona.
Our journey started with a small group of employees and a few dozen Independent Associates who joined together to free people from physical and financial pain with our Solutions to Transform Lives™. In just over a dozen years, we've expanded into 13 countries and territories around the globe, with even more to come.
With cumulative sales totaling over $3 billion, Isagenix continues to gain momentum! In 2014 alone, we grew to over 432,000 Isagenix members around the globe.
Last year, we made our eighth consecutive appearance on the Inc. 5000 list, which recognizes the fastest-growing private companies in the United States. We were ranked No. 29 on Direct Selling News Global 100, an annual ranking of the top 100 network marketing companies worldwide. And, the American Business Awards recognized us with 11 Stevie® Awards.
Because of all of you, our solutions have allowed thousands to transform their lives physically and financially. And we're seeing more and more people using Isagenix products not just to reach their ideal body, but to maintain a healthy lifestyle long term. Your success stories inspire us every day. Thank you for joining us on this incredible journey and being part of our Isagenix family.
In 2015, Isagenix is striving to break through a "Billion & Beyond" in annual revenue, as we endeavor to change more lives than ever before. Together We Will continue our global growth as we fulfill our mission to positively impact lives with our no-compromise products and generous compensation plan.
We look forward to celebrating your success and hope to see you at an Isagenix event soon.