Mary Kay Expands Into Colombia
March 22, 2015
By Tina Williams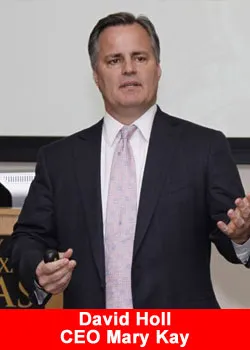 For a global cosmetics company focused on enriching women's lives, there may be no greater indicator of future success than opening its newest market in the home of Miss Universe. On the heels of Miss Colombia winning one of the most coveted international beauty titles, the iconic beauty brand announces its arrival in Colombia on March 13 with the opening of Mary Kay Colombia.
The globally recognized beauty company was founded by Mary Kay Ash in 1963. After retirement, Ash sat at her kitchen table and wrote a list of the positive and negative things seen in her direct selling career and realized she had inadvertently created a marketing plan for a dream company – one which would provide women with unlimited potential to achieve personal and financial success.
Today, Mary Kay is a $4 billion company with more than 200 skincare, fragrance and color cosmetics products sold by 3.5 million Independent Beauty Consultants in more than 35 countries.
We are proud to expand our operations in Latin America with the opening of Mary Kay Colombia, says David Holl, President and Chief Executive Officer for Mary Kay Inc. Since Mary Kay opened in Brazil in 1998 we have seen extraordinary growth and we anticipate a successful launch in Colombia as its economy continues to thrive, the demand for high quality products increases and entrepreneurship strengthens.
Mary Kay made an initial investment of $8 million to start its operations in Colombia. Mary Kay executives from the U.S., Mexico,Brazil and Argentina worked in partnership with Mary Kay Colombia executives in all aspects of the expansion, from market research to tailoring the Mary Kay opportunity to the Colombian market. Mary Kay enters the market with 150 select beauty products in the color cosmetics, skin care, fragrance and body care categories.
As Colombian women discover what they love about Mary Kay, members of Mary Kay's independent sales force from the U.S. andMexico will mentor leaders in the new Colombian independent sales force and help enrich the lives of women across the country.
Celebrating more than 50 years in business, Mary Kay was named the top 10 best-selling skin care brand and the top 15 color makeup brand globally by Euromonitor International.
About Mary Kay
Irresistible products. Positive community impact. Rewarding opportunity. For more than 50 years, Mary Kay has offered it all. With 3.5 million Mary Kay Independent Beauty Consultants and $4 billion in global annual sales, Mary Kay is a top beauty brand and direct seller in more than 35 markets around the world.