mynt Opens Japan In April
March 11, 2015
By Team Business For Home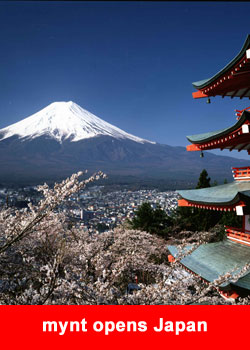 Isa Takahashi and Darren Olayan have partnered with Purple Diamond Executive Rob Sperry to launch mynt Japan.
The buzz is alive, and mynt is quickly building momentum in Japan. The onslaught of leaders coming to mynt is proof positive that the message of a different kind of company is resonating everywhere.
Rob Sperry has been a key founding leader and partner of the mynt initiative since its inception. He is a seasoned, successful leader in the industry and has teamed with Isa Takahashi and Darren Olayan, both former master distributors, to help lead the charge in Japan.
Darren has tremendous experience launching winning teams in multiple international markets that have reached 20,000 plus distributors in less than a year. These three exceptional industry experts, working closely with other important global mynt leaders, have been at work on launching mynt in Japan for three months.
Explaining the need to bring network marketing back to the roots of helping people, Rob, Darren, and Isa strongly believe in the mynt philosophy: great products at great prices; social responsibility; helping people grow and develop; and a mission to help 1 million families make an extra $1,000 per month. Japanese networkers apparently agree as many were attracted to our prelaunch in Japan and other experienced leaders are jumping on board.
"Although I've brought major leadership onboard when expanding internationally for other companies, the response we are getting with the launch of mynt in Japan has been like nothing I've ever experienced before," Darren said. "Many leaders are already on board with mynt and are ready to take Japan by storm."
What is making the difference? Darren and Isa love the heart of mynt and believe in the power of #myntmoments, which is the opportunity to do humanitarian work in their country with their teams and for their communities.
"We welcome everyone to come together with us at mynt, because working together is our secret formula for progress and success," Isa added.
mynt launches in Japan on April 11.