Sandi Watkins Finds New Home At Zija
March 11, 2015
By Nicole Dunkley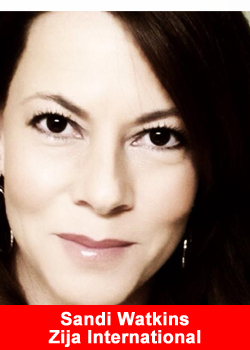 Top leaders from across the direct sales industry are flocking to Zija International and finding success because of the company's strong product base, amazing business opportunity, and 'Life Unlimited' company culture and message.
The Zija opportunity piqued the interest of Sandi Watkins, who has quickly become a high-ranking Distributor within the company's lucrative compensation plan.
As a successful network marketing veteran, Watkins was looking for a company with which to finish her rewarding career. With 27 years of experience in the industry, Watkins explains how she has found, and continues to find, so much success in network marketing. She also talks about why, as a strong leading woman, she decided to join the Zija opportunity after being a top earner at her previous company:
"For the last 27 years I have been involved in network marketing. I have had five different opportunities, found success, and along the way I have gained experience and learned what to look for in an effective company.
I knew, in my previous opportunity, that the company would not be my final place to build my team and lay down roots. I made the change to Zija International out of integrity. It's a company that meets everything on my checklist. I left my previous company at a time when most people would say, 'you are crazy for leaving,' but I left because I was moving onto something that was greater and better. I found a home and company that wants to see everyone rewarded for their efforts, and where success is promoted on all fronts.
There are several things that I look for in a prosperous company, and the first thing that drew me to Zija International was the leadership. The Founder, Kenneth Brailsford, has it all; a hugely successful track record, integrity, and remarkable chosen corporate leaders to guide the company.
The second thing that I look for is the product. Without great products I can't build leadership and I can't allow my team to grow. The products are ridiculously amazing, and everyone needs them. It's the best opportunity because we are helping people target their health and wellness. We don't have to worry about teaching, training, or talking in-depth about the products because they do it for you. Product testimonials flood in after people are introduced to them; it's pretty amazing to watch.
The next thing I look for is corporate support and a rewarding compensation plan. Zija's compensation plan has a simple system that promotes and encourages teamwork. Regardless of whether or not you have experience in the industry, you can find success with this compensation plan. The tools that the company provides for us are an amazing draw. We just have to direct people to the huge amount of information that the company provides and people's interest is automatically piqued.
Lastly, what drew me to Zija was that it is a company that is there to SERVE people and not to GET people.
When I'm looking for people to spread the Zija message to, I seek out individuals who are motivated to find an opportunity to change their lives on all fronts—their health, financial status, time freedom, and success in their own personal development. I am constantly looking for people who are excited to find their 'WHY' in life. We are looking for people who are trying to find a vehicle to drive them to success.
As a woman, I have an innate instinct to be a doer, to get out there and get things done. A successful family requires a strong woman to lead it, and I provide that for my team. I care about my team like my family; if you are struggling with something, I am going to help you learn and show you how to do it. I believe that women have the ability to get out there and be strong, resilient examples.
My team and I want to empower women to step into their power and achieve all that they are capable of. It is a definite possibility to lead a family and a successful team simultaneously. I have seven children, and I am so grateful for this industry because it has allowed me to be at home and really spend quality time with them. Getting a corporate job is not an option for me, and it never has been.
I love that, with the Zija opportunity, I can help others become closer, tighter, and stronger with their family. It has allowed me to give value to people's lives and allow others to experience what I have with my family, which is being together more. This company targets everyone—it isn't a niche market—because EVERYONE wants the four pillars that Zija promotes and stands for: Health and Nutrition, Financial Freedom, Personal Development, and an Active Lifestyle. This opportunity is the opportunity for everyone!
I love the four pillars of Zija. It's wonderful to find a company that wants people to improve their lives and become better people. The company truly stands for and provides a Life Unlimited. The Life Unlimited opportunity allows me to have the future that I want—the healthy body, the money to support my family, and to give hope to people who feel trapped in a corporate lifestyle. Life Unlimited is not just about a product or money, and it's not a segregated way of thinking; it's a well-rounded mission to help people be the best they can be and win in all areas of their life. Zija is a lifestyle that becomes you, one that you deserve, and one that you have been looking for!"
About Zija International
Zija International, a privately held and privately funded business founded by Kenneth E. Brailsford and run by Rodney Larsen, develops natural health, wellness, nutrition and fitness products. The company operates in more than 50 countries worldwide.
Zija has seen consistent growth every year since it was founded over 9 years ago and was recently named the "Fastest-Growing Company in Utah" by Utah Business Magazine. It has also been recognized on fastest-growing and top-revenue lists by Inc. Magazine, Direct Selling News, and Utah Valley Magazine, to name a few.
With corporate offices located in Lehi and more than 4 million sq. ft. of state-of-the-art warehouse, shipping and manufacturing facilities located in Utah, United States, Zija International employs more than 200 individuals and has the capacity to grow to more than two billion dollars in annual sales.