Visalus Spain's Alejandro Mateo Merono Achieves 5-Star Ambassador Rank
March 25, 2015
By Tina Williams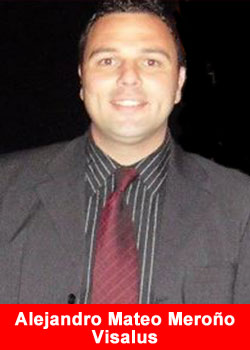 Spain is leading mainland Europe at record speed. Leadership in this country has stepped up to the plate to show the world they mean business. And Alejandro Mateo Merono is at the front lines, having quickly moved from 4-Star to 5-Star Ambassador.
"Today it's Spain and tomorrow the sky," says Alejandro. "We're continuing to expand our mission of transforming lives, and I'm very passionate about helping people become healthier. Now, as a 5-Star Ambassador, I'll be able to introduce that mission to even more people in more markets."
Alejandro's early success stemmed from training by ViSalus Co-Founder and Global Ambassador Nick Sarnicola, Global Ambassador Jason O'Toole, 2-Star Ambassador Steve Mitchell and other Vi Leaders beginning at the Influencer Summit in November 2014. The first 5-Star in mainland Europe, Alejandro is among Spain's five other Ambassadors. The country has additionally created 21 Regional Directors, seven National Directors and three Presidential Directors.
"Becoming a Vi 5-Star Ambassador is the ultimate dream come true," says Alejandro. "The business started out as just an idea among a group of close-knit friends and family and has turned into something greater than I could have imagined—not only for myself, but for all those I have met along the way to becoming a 5-Star."
Alejandro has been a visionary from day one. His big picture mindset lent itself to rapid growth in his business and inspired his team early on.
"Reaching this rank with Vi is simply the reality of what I dreamed long ago," says Alejandro. "Today I can say all the time spent, sleepless nights and sacrifices I made for my team have been worthwhile. That is precisely what led me to achieve this prestigious and coveted rank. It is a real honor and privilege to represent Vi in Europe as a leader."
ViSalus Co-Founders Ryan Blair and Blake Mallen have even gotten in on the excitement, making a visit to Barcelona and Alicante to experience first hand the incredible leadership in Spain. Vi's first European National Success Training (NST) will be held in Spain's capital, Madrid, in June. Thousands of Vi Promoters from across Europe, the United States and Canada are expected to fly in for the ultimate Vi experience.