CAbi Launches Microlending Program To Create 8,200 Jobs
April 16, 2015
By Team Business For Home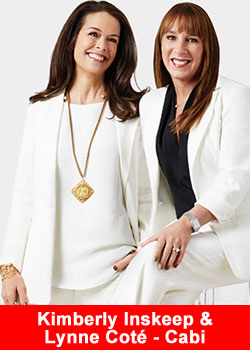 Los Angeles-based social selling apparel business CAbi, launched the W.E. are CAbi (Women Entrepreneurs Are CAbi), the first ever one-for-one microlending program.
In partnership with Opportunity International, the global non-profit financial services organization, CAbi will fund small business loans and training programs to support female entrepreneurs in developing countries, in the name of every new CAbi consultant who starts her own business. By providing the financing and mentorship to empower women to start their own businesses, W.E. are CAbi is projected to create and support approximately 8,200 jobs, impacting over 35,000 people in developing nations by 2020.
CAbi has always provided consultants the opportunity to realize their dreams through starting a business to support a better financial future for their families and communities. We are so proud to now extend the gift of that transformational opportunity to women around the world, said Lynne Coté, Chief Executive Officer of CAbi. W.E. are CAbi is a symbol of the incredible power that women entrepreneurs have to positively impact the lives of others and we look forward to expanding our partnership with Opportunity International to empower more women than ever before.
Owning their own business can be one of the most liberating opportunities for women, no matter what part of the world they live in, said Kimberly Inskeep, Founder, President, and Chief Cultural Officer of CAbi. Women are such relational creatures, and when they leverage community bonds as they build a business, those relationships can transform lives. This is as true for CAbi Consultants as it is for the woman opening a dress shop in Nicaragua, and is how one woman can ultimately transform an entire community.
The W.E. are CAbi program builds on an existing partnership since 2008 between CAbi and Opportunity International that has raised $615,000 through CAbi's Make A Change program which allows customers to round their order amount to the nearest dollar and donate the change. CAbi's goal is to contribute more than $4 million in total giving by 2020.
CAbi has been an important partner the last eight years and this new W.E. are CAbi program will help women around the world break the cycle of poverty, transform their lives and strengthen their families and communities, said Vicki Escarra, Global CEO, Opportunity International. We're grateful to CAbi for helping us expand our reach to more people in need and empowering the next generation of female leaders and entrepreneurs.
About CAbi:
Launched in 2002, CAbi (Carol Anderson by invitation) is a designer women's clothing collection and the nation's largest social-selling apparel company. The brand has since become known for its unparalleled quality provided through a unique shopping experience, and network of national CAbi Consultants who form a tight-knit community of collaboration.
Clothing designer Carol Anderson and 11 co-founders launched CAbi (Carol Anderson by invitation) in 2002. In 2012, investment firms J.H. Whitney and Irving Place Capital took equity stakes in the company. The following year, the company tapped Lynne Coté, a retail executive whose experience has included Jones New York, Anne Klein and Nine West, as CEO.
With a firm foundation of success, and a new visionary CEO, Lynne Coté, CAbi is poised to spread their creed affecting lives through relationships even further — transforming the lives of women across the globe.
About Opportunity International:
Opportunity International is a global non-profit organization that helps people in developing nations work their way out of poverty, strengthen their families and improve their communities. Founded in 1971, the organization has provided more than $8.5 billion in loans, savings programs, insurance, and other financial services and training to more than 12 million clients in 22 countries across Africa, Asia, Latin America and Europe. Clients use the resources to expand businesses, provide for their families and create jobs in their communities.
The U.S. headquarters of Opportunity International are in Oak Brook, Ill., with other key offices in Australia, Canada, Germany, Hong Kong, Singapore, Switzerland and the United Kingdom. The organization proudly employs more than 17,500 people around the world. Discover more at opportunity.org.