Isagenix Wins Gold and Bronze at 2015 Asia-Pacific Stevie Awards
April 25, 2015
By Tina Williams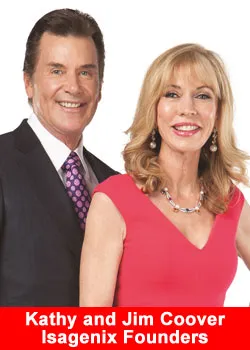 Health and Wellness Company Isagenix Australia and New Zealand (ANZ) has been announced as a Gold Stevie Winner for Best In-House Publication for its quarterly print magazine, IsaNews.
A learning tool for the Australian and New Zealand market, IsaNews is an 80 page professional magazine designed for people interested in seeking detailed product information, business building insights and discovering more about health and wellness and the greater Isagenix community.
Also winning a Bronze Stevie Award, Isagenix ANZ was recognised in the Best Brand Experience Eventcategory for National Celebration, its annual flag-ship event. Held in March, the event brought together 5,500 Isagenix Associates from across the region for a 'Strength In Momentum' themed experience that was the largest Isagenix ANZ event in history.
The world's leading award for achievement in business, The Stevie Award has become a highly coveted prize, recognising achievement in every facet of the workplacefrom non-profits, emerging start-ups, major public companies and government agencies, to executives, marketers, publications and annual reports. The Asia-Pacific Stevie Awards® are open to all organisations in the 22 nations of the Asia-Pacific region.
Angus Love, General Manager of Isagenix Australia and New Zealand said, "We are humbled and honoured to be recognised with these prestigious awards and proud of the impact we are making on the lives of so many Australians and New Zealanders. We are committed to supporting our independent Associates and providing them with the tools they need to create financial freedom and achieve remarkable physical transformations."
Other companies honoured at the event include Qantas, Telstra, DHL, Mantra Group and Harvey Norman.
Recently, Isagenix was also listed as No. 27 on the (Direct Selling News) DSN Global 100 list 2015representing the Top 100 network marketing companies worldwide, based on annual revenue. Isagenix has been featured in each Global 100 ranking since it first appeared in 2010 and the companies rank has moved up from No. 50 in 2010, as Isagenix continues to expand globally.
About Isagenix
Isagenix® Solutions to Transform Lives™, develops and manufactures programs for sustainable lifestyle habits. Isagenix products are distributed through an independent network of Associates in 12 countries across the globe. The company's vision is to impact world health and free people from physical and financial pain. Isagenix, established in 2002, is a privately-owned company headquartered in Chandler, Ariz., and is a member of the Direct Selling Association.