Javita's Dr. Chi Hits Royal Black Diamond
April 9, 2015
By Tina Williams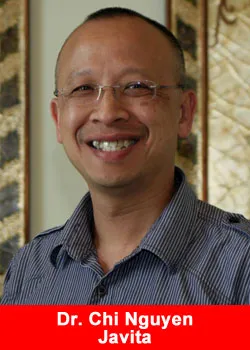 Since enrolling in Javita a little over two years ago, Dr. Chi has achieved incredible success becoming the company's first Royal Black Diamond.
Being first is always an incredible feeling. I never would have imagined myself being the very first Javita Royal Black Diamond. I struggled for five years in my last company, barely making any money during the entire time I was there.

Despite not having any success with that company, I never gave up on my belief in the industry. I was really fortunate to have found Javita. I have succeeded, I have thousands of team Members who have succeeded and together we are all changing lives. If I can achieve Royal Black Diamond, anyone can!
The Bakersfield, CA native has steadily risen through the ranks of Javita since joining in September 2012, attaining Diamond within 11 months of joining the company. But, he didn't stop there. Less than four months later, Dr. Chi achieved Black Diamond and quickly went on to attaining Royal Black Diamond and amassing nearly a million dollars in lifetime earnings with Javita.
Dr. Chi's organization includes over 24,000 active Members, including 10 Diamonds. Many of my Diamonds have never been involved in network marketing, and the others have tried it, but never achieved any significant success. This is one reason why I am so excited about Javita.
A Royal Black Diamond is a Member with more than two million in monthly sales.
Dr. Chi credits his success to his team. We should always focus on helping others get what they want and you will always get what you want in return. I have built my organization a little unorthodoxed compared to many other network marketing companies. I believe many network marketers focus on 'opportunity and making money.' What captured my attention about Javita was the health and wellness the products provide, so my team focuses on the products, which makes the opportunity appealing.
Up until a few months ago, Dr. Chi was a busy full-time foot and ankle surgeon, who was very active in his community. Because of his thriving Javita business, Dr. Chi says he now has more time, freedom and financial security, which allows him to live the life he's always wanted to live. Because of Javita I am able to still practice my passion of being a physician part-time, while building my Javita business on my own schedule and cherishing the liberated time with my family.
Dr. Chi and his family fled the Vietnam War when he was just a young boy. Upon arriving to America, his family set out to seek opportunity, and Dr. Chi knew he wanted to make his parents proud. Javita has allowed Dr. Chi to continue to fulfill his promise to his family. Javita has helped my family become healthier and has helped us tremendously financially. We have paid off most of our debts and my children will not have to worry about paying for college.
During the past year Javita has grown over 150% and has recently experienced a record breaking quarter. Dr. Chi said he plans on being around when the company grows to become a billion dollar company. Javita will be around not only during my lifetime, but for my children's lifetime and beyond. What strengthens my commitment for Javita is the love for my family and my Javita family. I love Javita because it is a company that changes lives. I have fallen passionately in love with Javita products because I know they work for me and I see them working for others. Being a part of Javita makes me feel that anything is possible, whether it is in health or financial freedom!
About Javita
Javita, with global headquarters in Boca Raton, Florida, is a company committed to changing the lives of millions of people by bringing together healthy coffee and other beverages with direct selling. Javita offers healthy, unique, great tasting products and an incredible business opportunity that can enhance people's lives – one cup at a time.
The company has offices and warehouses in North America, Europe and Asia and does business in more than 30 countries globally. Millions of people already have coffee in their life, Javita gives you coffee for your life.