Nerium Launches New $70 Anti Aging Product
April 10, 2015
By Team Business For Home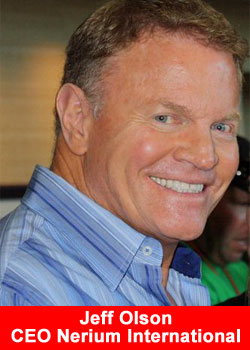 Nerium International, a leader in scientifically advanced, anti-aging products, has announced the addition of a breakthrough product, EHT® Age-Defying Supplement, Mind Enhancement® Formula, to its innovative product portfolio. This advanced supplement helps protect against mental decline and enhances overall brain health.
The key to Nerium's groundbreaking anti-aging formula is the exclusive, patented EHT extract, discovered after 20 years of research in Princeton University Labs by Dr. Jeffry B. Stock. EHT, a natural mixture of bioactive molecules isolated from coffee, functions by helping strengthen the brain and by maintaining robust and healthy neuron connections.
My team and I identified EHT, a component of coffee, as a natural molecule that works to protect against mental decline and boost overall brain health and resiliency, said Dr. Stock. Using EHT Age-Defying Supplement as part of a daily routine can help strengthen the brain to minimize the effects of aging as well as protect it against injuries and oxidative stress.
Fortified with other mind-rejuvenating ingredients, including vitamins B6, B12, D3, folic acid, magnesium citrate and selenium, EHT Age-Defying Supplement*:
Promotes better cognitive function and overall brain health

Improves memory and recall

Fortifies and strengthens natural brain functions

Increases focus and mental alertness

Protects and supports neuronal networking

Enhances the body's natural energy stores

Boosts the body's immune system
From the beginning, Nerium has been committed to creating products that combat the aging process. Nerium launched with innovative age-defying skincare products powered by exclusive ingredients and validated by science, said Jeff Dahl, Nerium Co-Chief Executive Officer.

But aging impacts more than just our external appearance. In fact, an integral part of fighting the signs of aging is maintaining optimal brain health. With the introduction of EHT Age-Defying Supplement, Nerium can proudly offer a comprehensive approach to combat the effects of aging for the face, the mind and the body. We are excited to share this holistic and easy-to-use family of products with our customers.
Nerium plans to continue to partner with Signum Biosciences to develop and market innovative, age-defying ingredients and products on an ongoing basis.
EHT Age-Defying Supplement will be available in the United States with a pre-sale offer available from May 15 to June 15, 2015. It will be a permanent part of Nerium's domestic product line starting August 1, 2015, for $70. Learn more at https://www.neriumeht.com.
About Nerium International
Nerium International, LLC, headquartered in Addison, Texas, is a relationship marketing company that markets breakthrough products validated by science. Since its August 2011 launch, Nerium has reached record-breaking sales and earned industry accolades while building millions of consumer fans along the way. Led by an award-winning executive team with more than 200 years of collective industry experience, Nerium is committed to developing and distributing anti-aging products that are rooted in real science, produce real results, and improve consumers' lives. For more information, please visit https://www.mynerium.com.