New VP Of Corporate Relations Joins doTerra
April 18, 2015
By Nicole Dunkley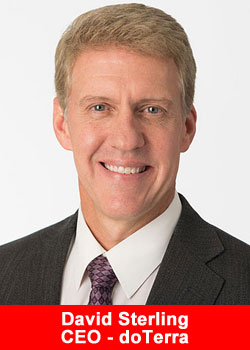 doTERRA announced that Kirk Jowers is joining the company as Vice President of Corporate Relations. For the last 10 years Jowers has been the Director of the Hinckley Institute of Politics at the University of Utah, in addition to serving as the University's Director of Federal Relations, Chief Strategist for the Office of Global Engagement, and Co-interim Director of the University's Middle East Center.
"We are very pleased that Kirk has chosen to join doTERRA," said David Stirling, doTERRA's President and CEO. "As the company continues its remarkable growth, someone with Kirk's international, economic and regulatory experience will play a vital role in helping doTERRA manage the associated challenges and opportunities."
Jowers adds: "doTERRA is an extraordinary company that empowers families with health solutions and products for enhanced well-being, provides thousands of people with fulfilling jobs, and gives disadvantaged people life-changing assistance through its charity: the Healing Hands Foundation. I am looking forward to embarking on this next chapter of my life and the opportunity to be part of something that is having a real and positive impact throughout the world."
As Vice President of Corporate Relations, Jowers will oversee doTERRA's government and media relations. Jowers will also provide guidance to the company's international development and relationships. Jowers' network of global government and business leaders make him a perfect fit for doTERRA, which sells products throughout the world.
In addition, the company sources essential oils from 33 countries including 18 developing countries as part of its' co-impact sourcing strategy which ensures ethical and fair trade sourcing around the globe.
"Kirk and his wife Kristen have already experienced the amazing benefits of essential oils in their own family," said Stirling. "They share our passion for natural solutions to so many of the health and wellness issues that families face today.
About doTERRA
doTERRA INTERNATIONAL, LLC is a world leader in the sourcing, testing, manufacturing, and distribution of CPTG Certified Pure Therapeutic Grade® essential oils through a global network of independent product consultants called Wellness Advocates.
In addition to a premium line of single-plant extracts and proprietary essential oil blends, the company offers oil-infused personal care and spa products, dietary supplements, and healthy living products for the home.