PUR Attitude Pre-Launches In The USA
April 16, 2015
By Team Business For Home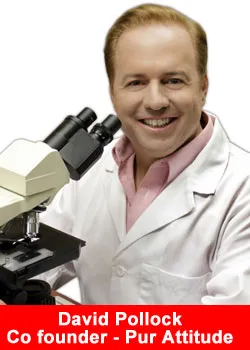 PUR Attitude, a new concept party plan company with a line of all natural, clinically proven and toxic-free skin care and wellness products has launched its line from their corporate headquarters in Miami, Florida, with its sights set on a Grand Opening in Miami in October 2015.
David Pollock, PUR Attitude's Co-Founder and product inventor, has over 20 years of experience creating products for some of the most recognized names in the skin care industry, including Lancome, Bliss, Smashbox, SkinCeuticals / L'Oreal, the Art of Shaving and many others. He has been a trusted consultant to companies like Mary Kay, Shaklee, Reliv, and many others.
Throughout his career, he's been Vice President at Home Shopping Network, Senior Management with Fuller Brush, Founder of Clinical Results laboratory and CEO of Hydron Technologies. David was named one of the 20 to Know by the Global Cosmetics Industry. David is a published author and reaches over 17 million people through his nationally syndicated radio show, his multiple television appearances and his contributions to publications, such as Dr. Oz, Livestrong, Woman's Day, Rachel Ray, Yahoo, GalTime, SheKnows and many others.
After 20 years in skin care, David became disheartened by the number of products with dangerous chemical formulations and ineffective results in which retailers were choosing pricing over quality. During that time, he studied the direct selling industry in-depth and realized there is a great desire and capacity for an effective and safe chemical product line all the while creating a generous business opportunity for people to pursue freedom and excellence at the same time.
In 2013, David decided to partner with Felipe Barrios, a successful Miami based financier and entrepreneur and the two put together a plan for PUR Attitude. The founders decided to launch the company with its mission to "Transform lives physically, emotionally and financially". The founders opened their doors for enrollments on April 1st, 2015 and already have thousands of women using their products and hundreds have signed-up as Consultants and are hosting parties across America. Over the coming weeks, PUR Attitude will introduce the world to its first leaders through www.businessforhome.org.
PUR Attitude is a hybrid party plan company that is using an advanced unilevel compensation plan and real retail margins to help consultants make REAL PROFITS and income while they are getting their downlines started.
"During our research, we realized that most direct sales companies were deceiving people. They would say that people could earn income by retailing their products but then would only provide their reps 8-10% profit margins (the difference between the distributor cost and the retail price). That is a lie. You can't make any money with a 10% differential.
So we decided to give real retail profits to our consultants. Our products carry 80-100% mark –ups and still maintain competitive prices to the customers. That's how we are different! Because we own the development, manufacturer, and distribution facilities we can offer our consultants a real opportunity to make money selling our product line. This will translate into a massive team building opportunities as well as a very generous income opportunity for our leaders", ~ Felipe Barrios, Co-Founder & CEO.
The founders welcome the opportunity to speak with all those interested who would like to partner with one of the best business opportunities for 2015 and beyond. For more information about PUR Attitude, you are invited to visit the company at https://www.purattitude.com. The company will be hosting its initial live business opportunity conference call on Saturday morning April 18, 2015 at 10 am EST and Mr. Pollock will be hosting two PUR Attitude Presentations in Pittsburgh, PA and Greenville, SC in the next 2 weeks. Mr. Pollock & Mr. Barrios are ready to help entrepreneurs launch their drive towards financial freedom all over North America and develop a PUR Attitude!