Rachel And Josh Jackson Achieve $3 Million In ViSalus Career Earnings
April 3, 2015
By Tina Williams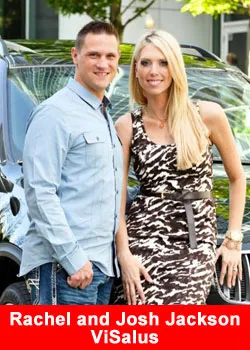 Rachel and Josh Jackson are an unstoppable force, having recently achieved over $3 million in Visalus Career Earnings.
Rachel Jackson – who goes by RJ is a Royal Ambassador in ViSalus, one of the highest paid female in the company. Rachel, with the full support of her husband Josh, is based in Houston, Texas, USA, where they raise and show English Bulldogs in their spare time.
A college drop out, RJ spent her early job years working retail jobs and running a part-time business as a nutritionist. It was at the age of 21 when Josh introduced her to the direct selling industry. Her first 4.5 years in the industry were of moderate success, a learning ground as she called it. She settled & joined ViSalus in February 2011.
They've successfully built their business on Vi Pillars of Life, Health and Prosperity with charity at the forefront of their vision.
"We just helped build our first orphanage in Belize," says Rachel.
With an unwavering commitment to results and a heart for helping others, the Jacksons stand as proud leaders to a team of thousands.
We can't wait to see what's next as this couple continues to expand their organization.
About ViSalus
ViSalus is a healthy lifestyle company committed to transforming life, health and prosperity around the world by creating meaningful connections, supporting physical transformations, and promoting entrepreneurial freedom.
Through their flagship program, The Challenge, ViSalus has developed a leading platform for achieving weight-loss and fitness results. Founded in 2005, ViSalus develops innovative weight-management products and nutritional supplements that it markets and sells direct-to-consumers through an international sales force of independent Promoters.
ViSalus offers its products in North America under the ViSalus® brand and in Europe under the Vi™ brand. ViSalus is headquartered in Troy, Michigan, with offices in Los Angeles and throughout Europe. For more information about ViSalus, visit Vi.com and follow the Vi-Community on Facebook (Facebook.com/Vi) and Twitter (@ViSalus).