Rodan+Fields $330 Million Sales In 2014
April 10, 2015
By Team Business For Home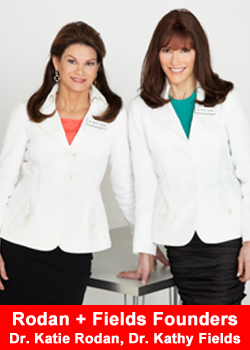 Katie Rodan and Dr.Kathy Fields, co-founders of Rodan+Fields Dermatologists, the San Francisco based skin care direct selling brand have been named in Investopedia's 10 Most Successful Women Entrepreneurs of the Decade.
The list features women entrepreneurs in the area of Real Estate, Healthcare, Technology, Entertainment and Media, and Fashion and Beauty.
Women entrepreneurs are historically most known for running fashion houses (Diane Von Furstenberg) or cosmetic companies (Mary Kay), but in the most recent decade, a remarkable number of entrepreneurs have made their marks in other industries like biotech, real estate and technology.
Stanford trained Dermatologists Katie Rodan and Kathy Fields felt so strongly about eradicating acne in all ages, they joined together to develop their flagship product Proactiv, in 1995. Twenty years later, Proactiv has annual sales estimated at over $800 million, and the makers have taken their dermatologic knowledge that helped them conquer the acne market to the anti-aging skincare market.
Since 2010, the company's revenues have grown nearly ten-fold, reaching $56.90 million in 2011, $109.48 million in 2012 and $196 million in 2013 and $330 million in 2014.
The number of Rodan + Fields consultants has also grown considerably, from 7,500 in 2008 to more than 50,000 in 2014.
Recently, the Wall Street Journal reported that Wells Fargo is interested to buy the company for as high as $800 million.
About Rodan + Fields
Rodan + Fields® Dermatologists is changing skin and changing lives by partnering with independent business owners across the United States to redefine the future of aging. Founded by world-renowned dermatologists Dr. Katie Rodan and Dr. Kathy Fields, the creators of Proactiv® Solution, Rodan + Fields' patent-pending MACRO Exfoliator™ and AMP MD™ System make real results possible at home without injections or other invasive procedures.
Named the 2010 Rising Star by the Direct Selling Association (DSA) for its dedication to achieving a high standard of excellence in business operations, and awarded numerous awards for business campaigns and products, Rodan + Fields is the anti-aging company to watch.