Royale Business Club Charged With $8.13 million Tax Evasion
April 24, 2015
By Team Business For Home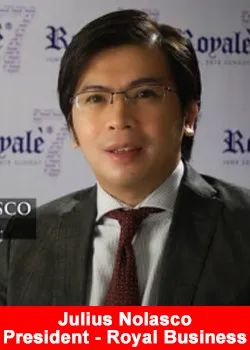 Royale Business Club International Incorporated, a Philippines-based multi-level marketing (MLM) organization, has been slapped with tax evasion charges by the Bureau of Internal Revenue (BIR) worth P359.75 million ($8.13 million).
Royale is a domestic corporation that markets and distributes food supplements, cosmetics, pharmaceutical products, and beverages.
The BIR said the company under-declared its annual income tax returns (ITR) and quarterly value added tax (VAT) from 2011 to 2013, as defined under sections 254 and 255 of the National Internal Revenue Code of 1997 as amended (tax code).
Also charged for the same violations were its officers: Royale president Julius Allan Nolasco; vice president for finance/treasurer Isa Angela C. Bautista; assistant treasurer Jeanette Maghirang; assistant treasurer Imelda Pedron; and assistant accounting manager Marjorie Molina.
Based on access letters released by the Bank of the Philippine Islands (BPI), Metrobank, and Banco de Oro (BDO), BPI certified that it paid Royal P141.60 million ($3.20 million); Metrobank, P468.55 million ($10.60 million); and BDO P171.07 million ($3.87 million).
In sum, Royale received income payments from the said banks amounting to P190.79 million ($4.31 million) in 2011; P236.38 million ($5.35 million) in 2012; and P354.06 million (8.01 million) in 2013.
But Royale declared in its ITR gross sales amounting to only P39.14 million ($884,374.12) in 2011; P106.69 million ($2.41 million) in 2012; and P196.68 million ($4.44 million) in 2013.
In effect, Royal substantially under-declared its correct taxable sales by 387% or P151.64 million ($3.43 million) in 2011; 122% or P129.69 million ($2.93 million) in 2012; and by 80% or P157.38 million ($3.56 million) in 2013.
Thus the aggregate deficiency tax liability, inclusive of surcharges and interests of P359.75 million ($8.13 million) for 2011, 2012, and 2013.
The case against Royale, together with its responsible corporate officers and employees, is the 340th filed under the Run After Tax Evaders (RATE) program of the BIR under Commissioner Kim S. Jacinto-Henares. It is likewise a RATE case of the National Investigation Division.
Royale practices direct-selling strategy in which the sales force is compensated for the sales people they recruit on top of generating sales.
While exactly not illegal as most MLM firms are registered with the Securities and Exchange Commission and the Direct Selling Association of the Philippines, some of them though have been found to be engaged in pyramiding scheme. Pyramiding scheme does not involve an actual product to sell, but rather subsisting on a business model that requires enrolling people in the scheme.
About Royale Business Club
Royalè is a 100% Filipino-owned corporation established in 2006. Headquartered in Quezon City, Philippines, the company has branches throughout key cities in the Philippines as well as international hotspots in the cities of Dubai, Taipei, Singapore, Doha & Abu Dhabi.
The company offers a wide spectrum of FDA-approved health, wellness and beauty products.