Sashin Govender – WorldVentures 21 Years, Hits National Marketing Director
April 13, 2015
By Team Business For Home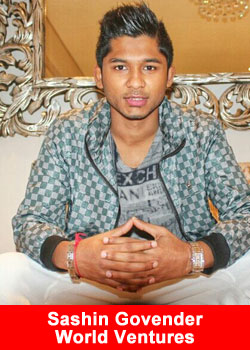 Sashin Govender, is 21 years old and lives in Durban, South Africa. He was 18 years old when he joined the Network Marketing industry while he was in his final year of high school.
After high school he took a year off to do WorldVentures full time. Meanwhile he has taken 39 vacations in 3 years and is WorldVentures youngest National Marketing Director, with a a team of 4,500 people in 22 countries, the average income in South Africa $400 per month.
To reach National Marketing Director in Wordventures, a distributor needs $31,500 cumulative earnings in the preceding three calendar months, $10,500/month average.
Sashin has a 3 series BMW paid for by the company which was his first car. The day he took delivery of his car was the day he got his license. His mom, dad and sister are also In WorldVentures. Sashin is mentored by Matt Morris, Johnny Wimbrey and Jefferson Santos in WorldVentures.
About WorldVentures:
WorldVentures is the leading international direct seller of vacation club memberships. WorldVentures is on a mission to help people achieve more fun, freedom and fulfillment in their lives, and to provide its members with premium vacations at reduced prices.
WorldVentures combines the power of the Internet with the strength of the direct-selling industry to market its DreamTrips Memberships. WorldVentures is a privately held company based in Plano, Texas, with active Representatives and members in 28+ markets.